Description
From royalty to peasantry, every age has its bad eggs, those who break all the rules and rub everyone up the wrong way. But their niggling, anti-social and irritating ways not only tell us about what upset people, but also what mattered to them, how their society functioned and what kind of world they lived in.
Join historian and TV presenter Ruth Goodman at Heffers for a brilliantly nitty-gritty exploration of real life in the Tudor and Stuart age. Drawing upon advice books and manuals, court cases and sermons, drama and imagery to outline, Ruth will talk about her new book of bad behaviour from the gauche to the galling, the subtle to the outrageous.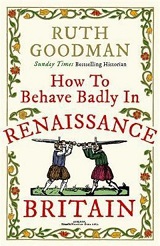 Ruth has presented a number of BBC series, including Victorian Farm, Wartime Farm, Tudor Monastery Farm and, most recently, Full Steam Ahead. She is also a regular expert presenter on The One Show, and has written two critically acclaimed books, How to be a Victorian and How to be a Tudor.
Tickets for the event are priced at £6 in advance (£7 on the door) and can be purchased through this page, by calling 01223 463200 or in person at Heffers bookshop. Please note that tickets are transferable but not refundable. Event suitable for ages 14+ (parental discretion advised).

If you are unable to attend but would like to request a signed copy of How to Behave Badly in Renaissance Britain, please send an email via the 'contact' button on this page.
Like this? See a full list of our events here.