'How To Build A Six Figure Coaching Business' Workshop

Saturday, 7 February 2015 from 11:00 to 18:00 (GMT)
Event Details
How much money have you spent, or are thinking about spending, on your coaching training? Here's the thing, knowing how to coach has nothing to do with making money as a coach. And if you don't make money as a coach, you can't coach because you need to make money somewhere else to make a living, right? 
Many coaching schools sell the illusion that as soon as you get certified (with them), you build your website and start to charge £100/h, nice and easy. Except that it does't work like that.
Most successful coaches I know (myself included) are not even certified. Coaching is the easy part, actually. In theory anyone can become a coach. It's the business of coaching that's more complex, and understanding the business side is what makes a difference between making or not making it in coaching. 
And that's where I and my workshop come in. 
I know I'm a good coach. Many of my clients would tell you that I'm a great one. But that's not why in January this year my business became a six figure one (>100k turnover over a 12 month period), only 2.5 years after I built my website. It happened because I love and understand business almost as much as I love helping people. And because I do, I can help MORE people. Do you get it? 
Every successful business is one which has mastered the art of MARKETING and SELLING, and the really successful ones have also mastered the art of BRANDING. 
These are the three fundamental areas I will be covering. No matter how gifted you are as a coach, without mastering the first two, at least, you have ZERO chance of succeeding in a big way. Does it sound harsh? Maybe. It's also true. 
Make no mistake, though, just attending won't make you succeed. Implementing what I'm going to teach you, however, will. After all, if you do what I did you will get what I got. It's as simple as that. 
It will be a fun and inspiring day, but most importantly it will be PACKED with the best stuff I've learnt over the past few years. And since I've approached this journey like a mad scientist, I've learnt A LOT. I will share with you ideas that have improved my practice, helped me work with clients I love, and who are happy to invest a lot of money because they believe I can help.
As far as I know, there is nobody else running this kind of workshop in the UK. 
Some of the things covered during this day include:
- Why you absolutely HAVE TO think about yourself as, and act like, a business person - and not just a coach. Being a good coach does only 50% of the job. The other 50% is understanding the business of coaching. 
- Selling, selling, selling. The key element of any business. As long as you see selling as something 'dirty', you're setting yourself up for a failure. 
- How to build a website which converts and why most of the coaching websites out there don't work.
- How to find clients (I've been working with around 20 clients at any given time since launching my website).
   - Advertising: Why Google Ads work and Facebook Ads don't
   - Speaking at events: I've spoken at over 200 so far and I will tell you how you can, too
   - Creating content: Writing (blogs and books) and YouTube channel
   - Referrals: How to maximise on them
   - Social media profile and how to use Facebook, Twitter and LinkenIn
- Why I ALWAYS reply to enquires within a few hours and why you should do the same.
- How to run initial consultations (sales conversations) and why doing them face-to-face is SO much better than on the phone or Skype (I've easily run a thousand of them to date, face-to-face, up to two hours each).
- How and how much to charge. Why charging per hour (as opposed to upfront for a set number of sessions) is a really bad idea.
- Why you shouldn't work with people you don't like, don't have good chemistry with and why in the very beginning you could work with anybody who wants to work with you. 
- How flexible you should be in terms of days and times you work.
- 45, 60 or 90 minute sessions and why. 
- Why I don't have a niche and how important it has been to my success.
- Why putting a PA (or VA) between you and your prospective clients can hurt your business.
- Pros and cons of hiring PR agency (my Metro full-page article was a PR job). 
- Thinking about yourself as a brand and why this is so important if you really want to make it BIG. 
- How to create income-generating partnerships (I have over 10 of them right now).
We will meet at my place (right between Oxford Circus and Piccadilly Circus stations) in a small group setting (up to six people only) for 11 o'clock start. We will have lunch around 1pm and a tea break around 4. There will be no time-filling group activities, but six hours of me giving you the hard information you need, including answering all your questions.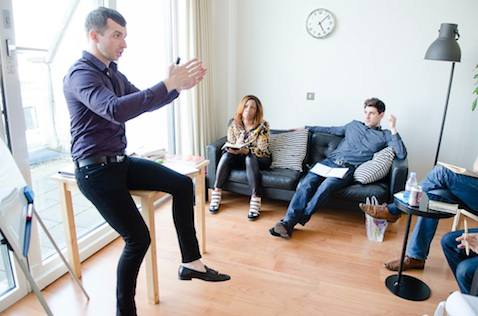 Please note, this workshop is designed primarily for life coaches but may also suitable for business coaches, consultants, trainers, NLP practitioners, hypnotherapists, nutritionists, healers, personal trainers and other similar professionals who work one-to-one. 
MONEY BACK GUARANTEE: I'm so confident it will meet (if not exceed) your expectations that if it doesn't, I'm happy to offer you 100% refund. 
Now, if you look at the price of the workshop and see it as a cost as opposed to an investment, you need it even more. All successful people constantly invest in themselves - a fact. You need to learn to think like a successful person to become successful. 
Here are testimonials from the previous workshop.
Message me here or call anytime on 07738 173913 if you have any questions, please.
I'm looking forward to spending this day with you! 
Love,
Michael
Do you have questions about 'How To Build A Six Figure Coaching Business' Workshop?
Contact Michael Serwa
When & Where
Flat 2
33 Savile Row
W1S 3PZ Mayfair, London
United Kingdom


Saturday, 7 February 2015 from 11:00 to 18:00 (GMT)
Add to my calendar
'How To Build A Six Figure Coaching Business' Workshop