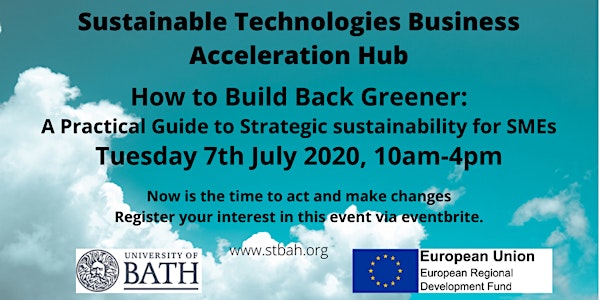 How to Build Back Greener: A Practical Guide to Strategic Sustainability
This workshop aims to set you up with a practical tool kit to help you prepare your business for a sustainable green future
About this event
There is growing evidence that the enforced "pause" of the Covid-19 lockdown has allowed many people around the world to reflect and re-examine their values and lifestyle. Environmental, social and ethical impacts of businesses are likely to be far more important in customers buying decisions as the world recovers from the Covid-19 pandemic. "Greenwashing" doesn't impress customers, employees and investors who want to see real commitment and progress towards reversing Climate Change, protecting biodiversity and enhancing social justice to ensure a sustainable future for the entire planet. So what does it mean for SMEs to make Sustainability a core strategy for their businesses to position themselves for future success in the post-Covid world?
This online workshop explores the issues and presents a practical guide to help businesses adapt to new demands from customers, employees and investors in order to succeed in the transition to a sustainable future economy.
The Sustainable Technologies Business Acceleration Hub (STBAH) is hosted by the University of Bath and funded by the European Regional Development Fund to provide business support and research connections to companies active in the West of England innovating in sustainable products and services.
HOW TO BUILD BACK GREENER: A Practical Guide to Strategic Sustainability for SMEs
This workshop aims to provide you with a practical 'take-away' tool kit to enable you to plan strategically and embed measurable sustainable aspects to your business.
There will be presentations from sustainability consultants with many years of experience in this field and insights from key experts from the University of Bath.
AGENDA:
9.50am: Welcome attendees signing in (sign in via zoom)
10.00am: Welcome and Introductions
10.15am: Session 1 – Customer perceptions and desires; what is changing and what do they expect?
Jessica Whitcutt Fagan, Founder It's a Shovel.
Professor Mike Lewis, School of Management, University of Bath.
10.50 am: Short refreshment break.
11:00 am: Mark Hedges, Sustainability Consultant: Workshop, How to Build Back Greener.
12.30am: Break for lunch
1.00pm: (resume) Mark Hedges, Sustainability Consultant: Workshop, How to Build Back Greener.
2.30pm: Dr Sophie Parsons, University of Bath: How can you measure how sustainable you are?
3.20pm: Professor Matthew Davidson, University of Bath: Overview of Sustainability Research at University of Bath
4.00pm: Close
The event is free for all to attend, but you need to pre-register. Spaces are limited, once you have registered we will be in touch to confirm your place and closer to the event we will send you the relevant zoom links to join the event virtually.
Get to know your speakers:
Jessica Whitcutt Fagan, It's a Shovel: Founded by Jessica in 2017, It's a Shovel provides a full service reputation management consultancy specialising in helping mid-sized companies to identify their purpose and integrated true sustainability into their businesses.
Prof Mike Lewis, Lecturer, School of Management, University of Bath: Mike joined the University of Bath's School of Management in 2004. His early research focused on the meaning and management of effective manufacturing practice but, over time, he has expanded his interests to address questions of efficiency and effectiveness in various public and private sector service settings – from fast fashion retail to care homes, from management consultancy to nuclear storage.
Mark Hedges, Sustainability Consultant: Mark is a sustainable business leader with 20 years experience within high risk and fast paced industries including defence and aerospace, food, rail, textiles and FMCG. Mark is adept at embedding responsible business strategies, initiatives and checks in order to provide greatest business benefit and value.
Sophie Parsons, Lecturer, University of Bath: A sustainability professional with over 10 years' experience in carbon footprinting and life cycle assessment (LCA), and Strategic Advisor to the Institute of Materials, Minerals, and Mining (IOM3). Specialising in sustainability assessment of new technology and applying systems thinking to support decision-making on emerging societal challenges.
Prof Matthew Davidson, Director, Centre for Sustainable & Circular Technologies, University of Bath: Prof Davidson established the Centre for Sustainable Chemical Technologies (CSCT) at Bath in 2008 and is currently Director of its EPSRC Doctoral Training Centre (DTC). Professor Davidson is a Fellow of the Royal Society of Chemistry and is a previous recipient of the Harrison Memorial Prize of the Royal Society of Chemistry and a Royal Society Industry Fellowship.
For further information about the Sustainable Technologies Business Acceleration Hub please visit the website: https://www.stbah.org/