Event Information
Refund Policy
Contact the organiser to request a refund.
Eventbrite's fee is nonrefundable.
Learn simple processes you need to put in place to establish yourself as an expert in the field and ensure sustainable business growth
About this Event
Why you should attend:
In this interactive online workshop you will learn proven 6-step process for building your own business model for running successful therapy, coaching, or consulting practice.
Unlike other 'blueprints for success' commonly shared by experts in the field, this is not a copy of someone else's way of doing the business . It is a flexible framework guiding you to create your own brand identity and systems for generating clients, delivering results, and building sustainable income stream.
You will walk away from this workshop with:
6-step framework for establishing profitable practice
Clear priorities for building your brand credibility and authority
What you need to have in place for generating new leads and converting them into clients
Clarity of direction for where to focus your time and energy when starting your business
Template for crafting your brand positioning statement that makes you stand out from the crowd
practical steps for driving your business performance and measuring improvements on ongoing bases
What's included?
Pdf workbook
Business Development tracker template
Access to Support Community and Resources
Who is it for?
Business owners and entrepreneurs in wellbeing industry who need help developing their own business model, brand identity and operational strategy
Professionals looking to turn their side-hustle into profitable business
Newly-qualified Counsellors, Therapists, Psychologists, Mental Health and Wellbeing practitioners, looking for ways to easily start their business or establish independent practice.
Self-employed professionals looking for practical tools to maximise the impact of their services for their clients
Health Entrepreneurs at the ideation stage of their business development
Coaches and consultants who struggle to grow their business due to lack of systems and processes
Solopreneurs overwhelmed by doing everything on their own, and looking for support networks.
Who should NOT attend:
Those who do not take their personal development seriously, and do not see value in investing in themselves
Those who expect 'magical results' and are not willing to put the work to implement learnings of this workshop in practice
Those who cannot dedicate their time and undistracted full attention to this event (if you book, but cannot attend, you will receive the recording)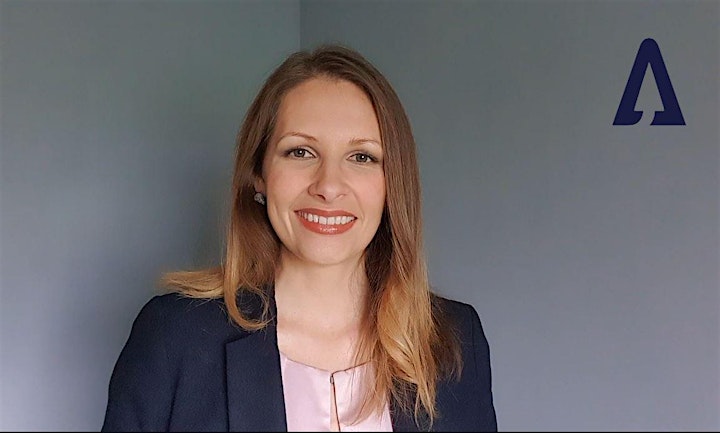 Meet your Trainer:
Evelina Dzimanaviciute is a leading organisational development and wellbeing consultant, founder of Elite Mind, Elite Mind Academy, EMBA app and developer of MindBoost programme. She is known for her pioneering work on using brain-based coaching for mental health, and for promoting the development of responsible leadership in organisations.
Evelina came to England just over a decade ago without even speaking the language and has built a successful leadership career and several entrepreneurial projects, all while studying for a degree, raising a child, and supporting suicidal individuals. Her unique journey of adaptation, perseverance, as well as recovery from a tumour, is an inspiring story often shared on international stages and leadership events.
Coming from Lithuania, a country with the highest suicide rates in the world, Evelina volunteered to help suicidal individuals and their families via Maytree charity. Evelina was struck by the difference in individual responses to adversity, different levels of resilience and ability to cope, which started her on the journey to find the answers and provide solutions to this unfair reality.
Since then, she spent over a decade studying the neuroscience of resilience and high performance and helping individuals and organisations to perform at their best where it matters the most. Her unique approach to personal and professional development is based on therapeutic, brain-based solutions combined with practical applications of performance coaching and organisational development.
Her business development experience and successful entrepreneurial projects established Evelina as a sought-after mentor to other business owners. Through this experience, she has developed unique methods for achieving business success without sacrificing your personal life.
For the first time, those exclusive techniques are made available to the public via Elite Mind Business Academy - community and training designed to equip individuals and mental health professional with practical tools to make a difference.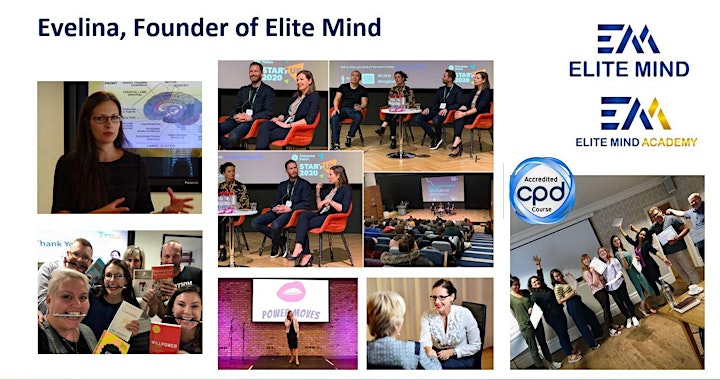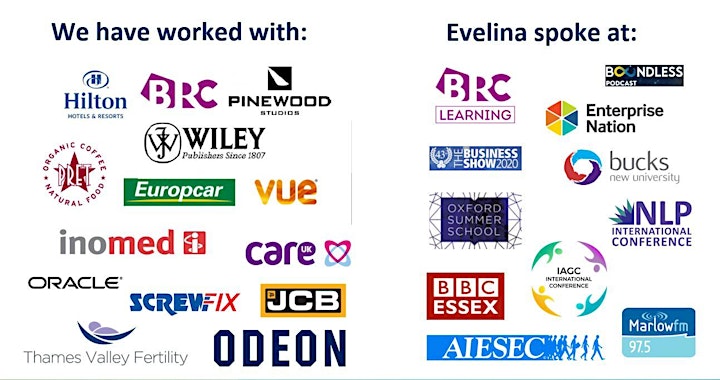 What others say:
''This was by far the most supportive and positive event I have participated in during my 15 years at Wiley…'' - Anne, senior editor at Wiley Publishing
''…it gave me direction, at the time when I have lost my way.'' - Jo Glover, Writer
''The insights of evolutionary Neuroscience gave me understanding about what drives us in life. I left feeling like I have found a 'pot of gold at the end of the rainbow' and I'm continuously using Evelina's skills ever since.'' - Anna Wieclaw, Lecturer, Science & Technology
''I have clarity in the direction I need to take for my business. Feeling motivated!'' - Matt Hudd, Martial Arts Instructor
''It gave me an understanding of brain development to enable better emotional control, and utilising stress as an opportunity for growth.'' - Natalie Bloomfield, CMI Manager
''Engaging and personal. I felt like listening to a friend, despite being 150 people in the room.'' - Teresa, Wiley
''The practical blended with science – makes sense!'' - Kate, Wiley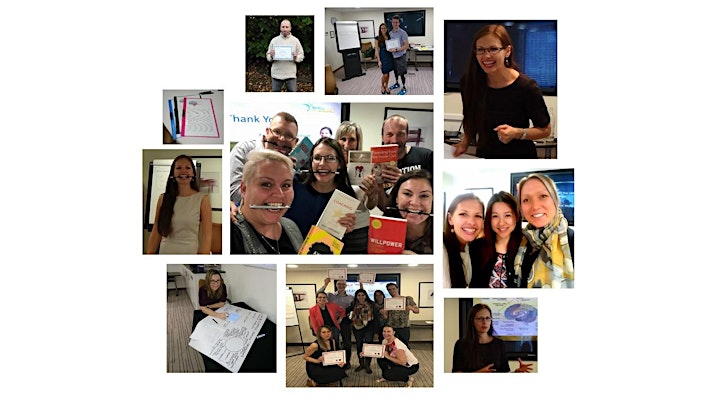 Date and Time
Location
Refund Policy
Contact the organiser to request a refund.
Eventbrite's fee is nonrefundable.