Location
Central Working Whitechapel
68-89 Mile End Rd
London
E1 4TT
United Kingdom
Description
What does it take to be an awesome community manager in social media?
It's always helpful to gain outside marketing inspiration, and this social media panel may be just the spark you need for your social campaigns! Whether you work in social media / community management, or you're interested in the field, or want to meet other digitally savvy ladies, join us!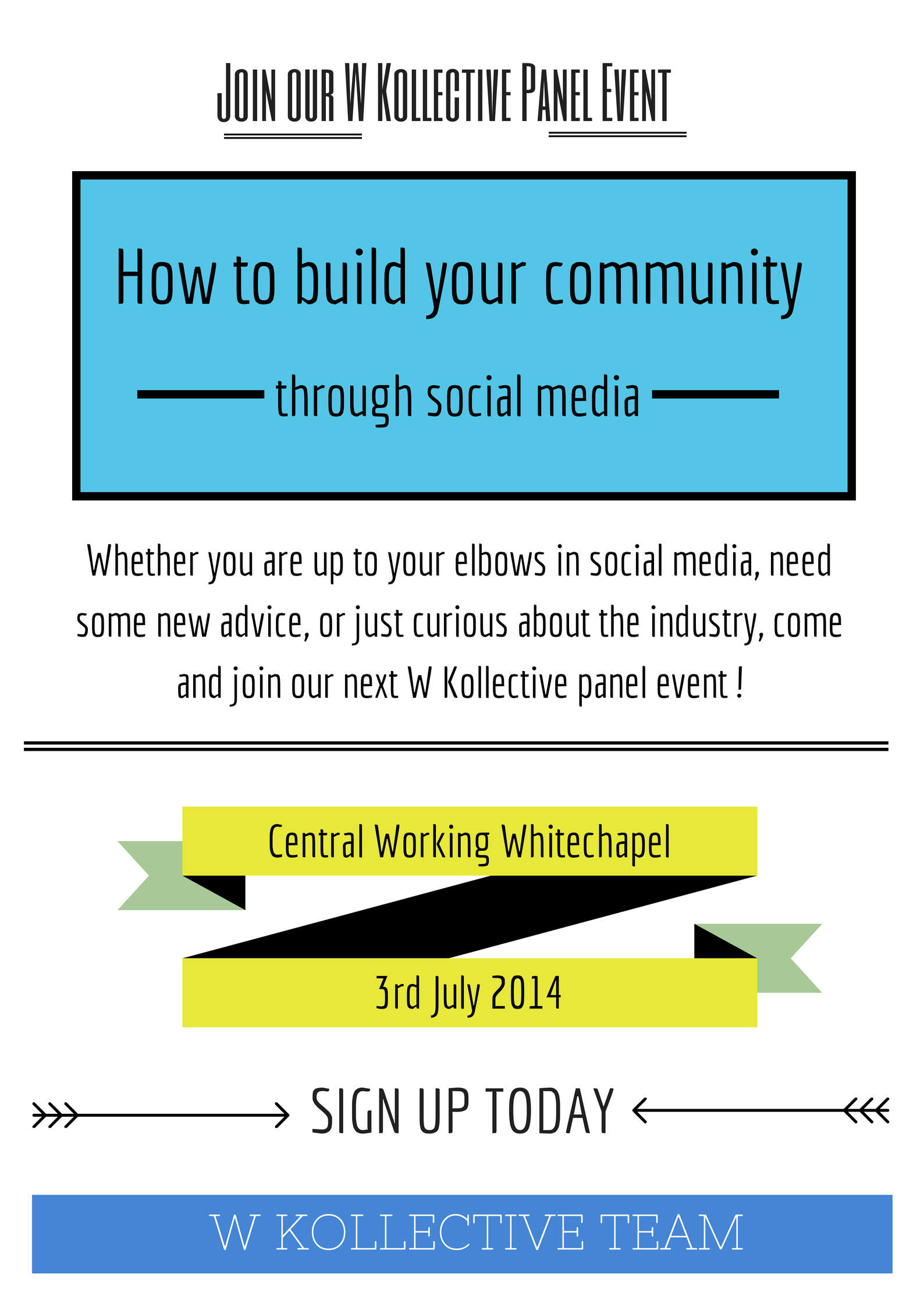 Event Details
Join W Kollective on Thursday, 3rd July as we dive into bold social media and community management best tactics that get results! Social media experts and influencers who will share hard-won advice on how to connect with the relevant audience through various platforms so that you can put into pracitce. Plus, enjoy delicious snacks and drinks!
We will then open the floor to you and you'll have the opportunity to raise any issues or challenges you're facing to be answered by the panel and other community managers in the room.
Networking sessions to kick-off before (6:30-7:30pm) and post the panel (8:30-9:00pm) for opportunity to meet other awesome social medianites!
Presenting our panelists:
Gemma Phelan, Founder and Managing Director at DigitalBinx
Gemma is a socio-mobile pioneer with a keen head for business and love of vintage glamour. Gemma founded DigitalBinx in 2010 and leads innovation, strategy and client services, with a passion for designing effective and imaginative campaigns. Since conception DigitalBinx has had the pleasure of working with Paramount Pictures, The Museum of London, Rackspace, Tune Hotels and Save the Children among others. Gemma has also worked for The Daily Mirror, NatMags and the award-winning Good Agency, before foundering DigitalBinx.
Fleur McGerr, Head of Social Media at DigitalBinx
Fleur is an experienced creative copywriter and social media native who started out professionally in print publishing before jumping to the digital dark side in 2008. She has over ten years' experience in content creation and curation, has written for The Guardian and the Chap Magazine, dabbles in event management and also has an award-winning lifestyle blog called Diary of a Vintage Girl.
Sofie Sandell, Author of Digital Leadership
Sofie Sandell is a Swedish Londoner and the author of the book Digital Leadership which was published in September 2013. Sofie is a professional speaker and she speaks about leadership, creativity and the impact of social media. Sofie is also a lecturer in digital marketing at INSEEC University in London. In 2011 she was awarded the Freedom of the City of London in recognition of her service to the city. Her aim is to teach and inspire people to use creativity and digital tools to become more successful.
Anthony Leung, Social Media Manager at Just-Eat.co.uk
Anthony owes his life to the internet. He met his wife online, got his iPad for free thanks to Twitter, and is currently Social Media Manager at Just Eat. He's previously managed social media for Save the Children and Rackspace, and has a ridiculous analogy about how social media is like a hockey team. He knows it's ridiculous, but he stands by it.
Kindly sponsored by: London Escalator
"Connect. Collaborate. Accelerate.''
The Escalator is a physical platform to help you scale your business through connection, co-creation and exchange.
The Escalator includes a vibrant community of start-ups, co-working by Central Working, a state-of-the-art Innovation Loft for events, and two world-class accelerators - Microsoft Ventures and the Barclays Accelerator powered by Techstars."