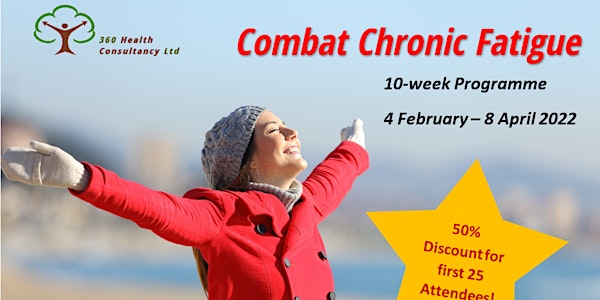 How to Combat Chronic Fatigue Syndrome 10-week Online Programme
Refund policy
Refunds up to 7 days before event
Eventbrite's fee is nonrefundable.
Understand how to develop a personalized approach to treating chronic fatigue syndrome based on your own needs using functional medicine.
About this event
Weekly Webinars
Each session will include practical solutions and new ideas to inspire you and help you adopt a more positive approach focusing on what can be done to help you combat chronic fatigue.
Week 1: Understanding energy pathways and what can go wrong.
Week 2: Personalized Medicine and how to know what your body needs
Week 3: Detoxification and immune function in chronic fatigue.
Week 4: Functional Nutrition for Chronic Fatigue syndrome
Week 5: Tackling Mental health and emotional well-being during chronic illness.
Week 6: Exercise and Movement: Managing the paradox of inactivity
Week 7: A realistic look at Sleep, Meditation and Mindfulness in practice.
Week 8: Effective Communication with friends, family and healthcare professionals
Week 9: Modifiable Lifestyle Factors
Week 10: Latest research and treatments and your next steps
Private Facebook Community
We will also have a private supportive and positive facebook community where you can get additional resources and watch interview with other natural healthcare professionals who have experience in this area.
Who is this Combat Chronic Fatigue course for?
Are you struggling to get a diagnosis or successful treatment for chronic fatigue syndrome, ME, fibromyalgia or other long term health problems associated with it such as pain, headaches, insomnia, anxiety and depression? Or are you the main carer for someone in this situation? If so, then this 10-week programme is designed for you to get a greater understanding of ways that a personalized approach to your health may help you get out of the 'rut'.
Event Details
Dates: Every Friday from 7 January 2022 up to and including 11 March 2022
Duration: 10 weeks
Time: 14.00 GMT
Venue: Online only
Health Coach: Simone Buehner, Director of 360 Health Consultancy Ltd
What's Included:
1 hour per week webinar
Private facebook group for additional resources, information and peer support.
1:1 advice and consultations are not included but general support or Q&A that will benefit everyone in the group is.
Fee: £500
50% discount for first 25 attendees (£250)
30% discount for second 25 attendees (£350)
What is the refund policy?
You can cancel your registration up until 7 days before the start of the first event on Friday 11 January, but you will be liable for the non-refundable booking fees charged by Eventbrite.
Contact Details
Simone Buehner hello@360HealthConsultancy.com or telephone +44 7715 239 999