Description
They say the eyes are the windows to your soul well if this is the case your website is the window to your business.
Join NatWest Business Growth Enabler Sharniya Ferdinand for our 4 part series on How to Convert Site Visitors to Buying Customers

Do you feel you should be making more sales than you currently are, I'm sure you truly believe your product is the best but for some unknown reason, people are simply not buying from you. Perhaps you're getting site visitors but they are not clicking that 'buy' button.
Consumer habits have changed meaning that the way people view products has changed too. Using conventional methods to persuade buyers to part with their hard earned cash will no longer cut it. We live in a digital world so we have to use psychological persuasion.
Your website is the main door to your business so let's make sure the door handle works perfectly well, you will learn everything you need to know to generate more 'buy' clicks to increase sales
What you will learn
How to effectively employ psychological using social media to drive traffic to your website
How To Write Captivating Content for your website (Tell Your Story)
How To film engaging videos for your website
How to build brand loyalty as a small business (After your customer buys from you, what next?)
Why you should think Like a 'Media Company" to persuade site visitors to buy from you.
Delivered to you by Obed Yeboah Director, Obeds HUB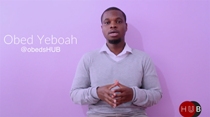 Obed works with entrepreneurs to develop their business ideas, he also teaches entrepreneurs how to create results using the advantages of being a small brand. He is an award winning social entrepreneur and runs a podcasting channel called 'How To Hustle An Entrepreneur'; Obed sold his first business "CVsnip" that he started in his second year at Leeds Beckett University in 2016.

---
You will also have the opportunity to meet and connect with other business owners so bring plenty of business cards.
We look forward to seeing you there!!