Description
They say the eyes are the windows to your soul well if this is the case your website is the window to your business.
Join NatWest Business Growth Enabler Sharniya Ferdinand for 'How to Convert Site Visitors to Buying Customers'
What you will learn
How to effectively tell your story online "website, social media"
As a small brand, telling your story is leverage you can use to compete with established brands. The effectiveness of your story depends on various factors but the core elements you need to consider are:
1. Your ability to tell your story to emotionally connect with your audience
2. Understanding your customers or consumers well enough to engage with your story - Profiling
3. Aligning your story to your product or service to encourage your customers to buy from you.
4. Identifying the best method to share your story | video?, podcast?, Blog?
5. An effective marketing strategy to share your story offline and online
5. Identifying the right influencer to share your story to the masses
We will identify your story and how you can connect with your consumers. If you are a small brand fighting for attention then this event is for you
Delivered to you by Obed Yeboah Director, Obeds HUB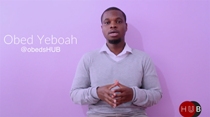 Obed works with entrepreneurs to develop their business ideas, he also teaches entrepreneurs how to create results using the advantages of being a small brand. He is an award winning social entrepreneur and runs a podcasting channel called 'How To Hustle An Entrepreneur'; Obed sold his first business "CVsnip" that he started in his second year at Leeds Beckett University in 2016.

---
You will also have the opportunity to meet and connect with other business owners so bring plenty of business cards.
We look forward to seeing you there!!

All information used in this presentation you are registering for is produced by the speaker(s) for information purposes only and is for the sole use of the attendees at the presentation.
Whilst we feel this topic is beneficial to business owners, the views and information have not been issued by NatWest. Any views expressed in the presentation are not necessarily those of NatWest and should not be viewed as individual advice or as a recommendation. You should seek independent advice in respect of issues that are of concern to you.
To the maximum extent permitted by law we expressly disclaim all representations, warranties, or assurance of any kind, expressed or implied, that are made to the accuracy or completeness of the information contained in this presentation and no member of NatWest accepts any obligation to update or correct any information contained herein.