Description
"We can't all be Game Changers, but we can all make a game-changing impact"
Nathan Ott, CEO and Founder of The GC Index®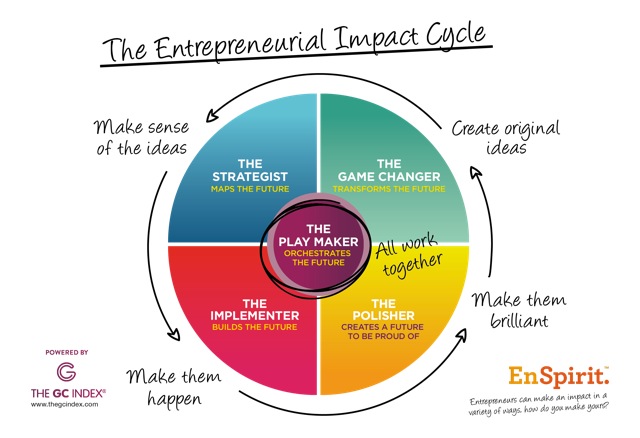 Are you An entrepreneur who desires to increase your impact?

Part of an established company that needs to develop more entrepreneurial teams?

Someone who wants to improve your own entrepreneurial skill set and build a game-changing team?

A start-up open to insights into the kind of team that can help accelerate growth?

Consultant, speaker or coach who longs to share a message to the world?

In partneship with Kurdish House London and EnSpirit, Impact Hub Westminster brings you this 'Gamechanging Team' workshop to identify what kind of entrepreneur or enterprise you are and how you can make the best impact and contribution in the world.
Being an Entrepreneur is one thing; being a game-changing entrepreneur is another.
The landscape is such that we now require a framework to understand how we can make a game-changing impact as entrepreneurs.
The good news is that with the resources available and the time we live in, it is now much easier to be an entrepreneur and scale our businesses with the right framework and game plan. EnSpirit Global is committed to helping entrepreneurs make Impact in The World.
You can make an impact through:
People - Enabling everyone to make an impact.
Ideas - Exploring possibilities and making sense of them
Tasks - Getting things done and getting things done well.
Now is the time to focus on the real impact that we personally can make, as well as others within our team – focus on who is 'best' for the job at hand. By understanding how each person will make an impact through their ideas and the actions they take, each person can contribute to the team, project and to the wider organisation, making us far more likely to create a game-changing culture. Understand your entrepreneurial self better, will help you understand your entrepreneurial strengths. The Entrepreneur Impact Profile can help with this.
The Entrepreneur Impact Profile (EIP) is a revolutionary framework for empowering entrepreneurs and business owners like you to maximize your self-awareness in the contributions that you can make. It enables you to accelerate your entrepreneurial impact on the world and to create extraordinary results.
The session is facillated by Baiju Solanki, author of I'm An Entrepreneur - Get Me Out Of Here!
The Event is brought to you by Impact Hub Westminster, Kurdish House London and EnSpirit