How to Create a Non-Fiction Bestseller

Friday, 12 April 2013 from 09:30 to 16:00 (BST)
Event Details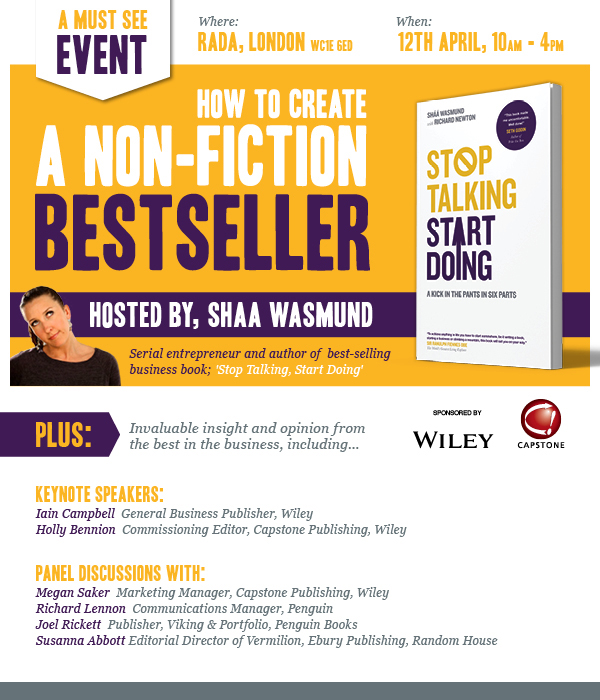 I'd always talked about writing a best-selling business book – and last year I did it! 'Stop Talking, Start Doing – A Kick in the Pants in Six Parts' outsold every other business book in 2012 and was still #1 in WH Smiths' business charts a year after its release.

I did this despite running Smarta.com and sitting on the board of several other companies – that's why I know, despite how busy you are and how little time you think you have, that actually YOU TOO CAN WRITE A BESTSELLING BOOK!

And I'm going to show you how on the 12th April.

Writing and publishing a book establishes you as a go-to expert.
Writing a book is probably one of the best ways to rapidly build credibility in your industry. It builds your personal profile, creates PR opportunities and opens you up as a thought leader and speaker in your field of expertise. And that's why I highly recommend you attend the event to get you started on your book writing journey.

I will be sharing the lessons I've learnt and the exact steps you need to take to get your book planned, drafted and signed to a publisher within 90 days.
 
I've also got the publishers, editors and marketing managers of Wiley, Capstone, Penguin and Random House all lined up. They will be sharing their industry insights on the latest book trends, the decline of the retail market, the best online marketing strategies and the different routes to market.

We are talking about having the 'best of the best' of the business book publishing world all under the same roof!


Iain Campbell, Publisher at Wiley helping people with original ideas share their stories in print and digital.
Holly Bennion, Commissioning Editor for Wiley Business and Capstone responsible for finding leading experts in business and personal development.
Megan Saker, Marketing Manager at Wiley and Capstone responsible for maximising book sales for general business titles.
Joel Rickett, Publisher at Penguin with over 15 years experience spotting and creating a bestseller.
Richard Lennon, Communications Manager at Penguin overseeing marketing, PR and business development for Penguin's business books.
Susanna Abbot, Editorial Director of Vermilion, the UK's leading lifestyle imprint with over 15 years experience identifying and developing new talent and has published numerous best selling authors including Steve Peters (The Chimp Paradox).

Whether you want to write a business book or personal development book, this event is a must!

The topics we'll be covering: 

Different routs to market: self publishing vs traditional publishing

How to secure a book agent

How to make yourself attractive to a publisher

How to secure an advance from your publisher

Five biggest insider tips if you are planning on self publishing

How to grow your platform to market your book

The two different types of PR you can generate from your book

Case studies from other bestselling authors

Seating is strictly limited. Book today to avoid dissapointment!
P.S. Please note the panel discussions will be focused on non-fiction business and personal development books. If you want to write a book on cookery, cats, dieting, gardening etc, you'll still find this event valuable, however the event will be primarily be focused on publishing personal development and business books as this is where Shaa's experience and passion lies.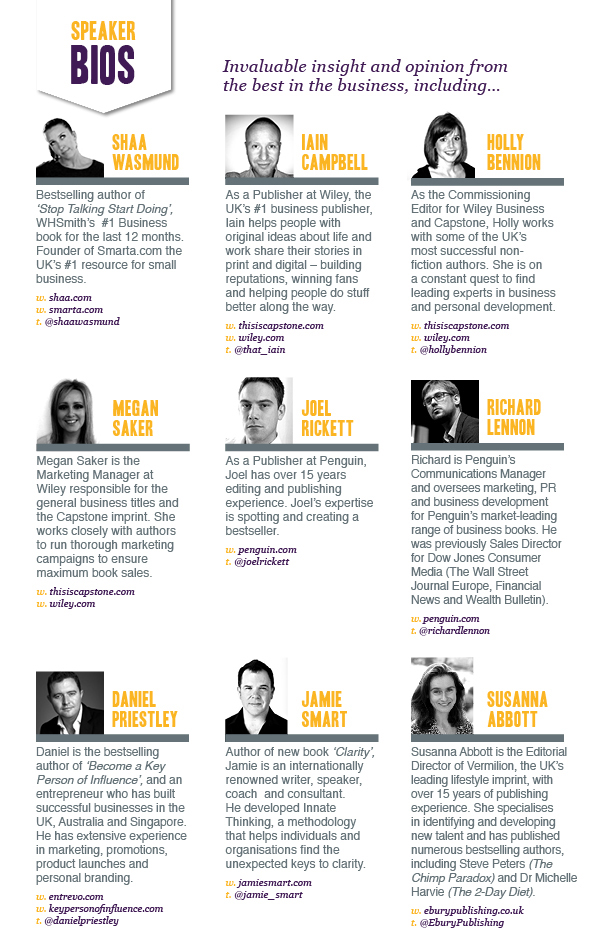 When & Where

RADA London
Malet St
WC1E London
United Kingdom


Friday, 12 April 2013 from 09:30 to 16:00 (BST)
Add to my calendar
Organiser

Bestselling author of 'Stop Talking Start Doing', WHSmith's  #1 Business book for the last 12 months.


Shaa Wasmund inspires action with her no-excuse advice.

Entrepreneur.

Prolific Speaker.

Digital Native.

Champion of small businesses.

Voted by the IoD as one of the Six Most Connected Women in the UK, Shaa works tirelessly to share her knowledge and contacts to help others succeed.