How to Create Impact with Social Media - Self Employed Network Event
The session will focus on how to get the best out of social media for your Consultancy - using Instagram, Facebook, LinkedIn and Twitter
About this Event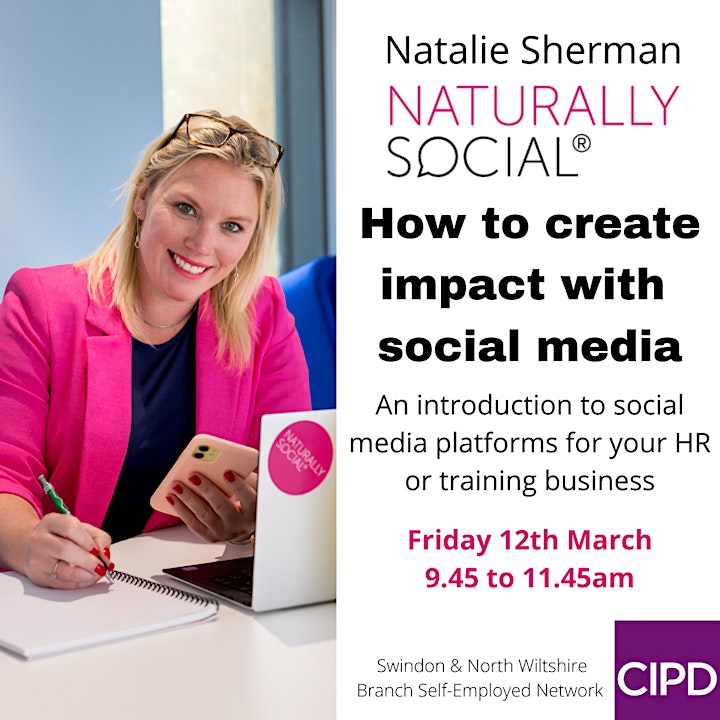 Due to the current Covid-19 situation, we will deliver this event as a webinar. Thank you for your support and understanding at this time.
How to Create Impact with Social Media - Self Employed Network Event
This event is open to those who are currently operating in the self employed / independent space or for those considering it
Event details:
An introduction to social media platforms for your HR or Training Business
Do you want to use social media to reach a wider audience and raise your brand profile, but not sure where to start? Do you want to find out more about which platforms to use and learn time-saving tips? Have you dabbled in social media but not really found it's worked for you?
Building on January's popular "How do I get my business of the ground?" workshop, we are delighted to welcome Corsham-based social media guru Natalie Sherman of Naturally Social to explain more about how to create impact on social media.
The session will focus on how to get the best out of social media for your HR or training consultancy, including:
Instagram 101 – what is Instagram and how to use it for business
Facebook for Business – best practices and top tips
Understanding LinkedIn
Making the most of Twitter – features and strategies to save you time
About Natalie Sherman:
Recently named as the UK's No.1 marketing adviser by Enterprise Nation and one of the South West Insider's 42 under 42, Natalie is driven by the pursuit of social good - and damn good social media. She has poured her expertise into hundreds of businesses and charities, creating results they can actually look at, measure and appreciate the impact of. A proud #SheMeansBusiness trainer for Facebook, Instagram and Enterprise Nation, Natalie is unlikely to ever have a quiet weekend but is having a blast partially running the world from the Naturally Social office.
Timings / Agenda:
9.45 to 10am – networking – a chance to catch up informally with other group members
10am to 11.30 – social media workshop with Natalie Sherman
11.30 to 11.45 – summary and close
This session is hosted by CIPD Swindon & North Wiltshire Self-Employed Network. The session is free to CIPD members (including members of other branches) and non-members are welcome to attend for a small charge.
Additional Information:
Please note this event may be recorded for future viewing. By registering for and attending this event, you are voluntarily acknowledging and accepting this may be a recorded event.
Coronavirus:
The CIPD is providing Coronavirus advice to Employers both online and in the media. You can find up to date information on the CIPD's website "here".