This is a FREE webinar hosted by industry experts that will provide you with practical advice for your success in business.
About this event
This free webinar will help you take the first step to reaching and exceeding your goals. This webinar has been designed to help you connect your actions, mindset and knowledge to a successful outcome. We will provide you with strategies for the future, not just a 'quick fix' for the present. Learn how to develop a growth mindset and how to bulletproof your business plan for the best chances of success in 2021.
This webinar will be hosted by Linda Plant & Cordell Jeffers:
Linda Plant- Business Mogul & BBC 'The Apprentice' Final 5 Interviewer.
From selling stockings on a market stall with her parents at the age of 10, to listing a company on the London Stock Market as an adult, her ascent on the business ladder has been phenomenal.
Over her career Linda has built from scratch (and sold) many companies for substantial sums. The life experience and business knowledge she gained through these events is invaluable. We can't mention her name without highlighting the fact that she became one of the advisors to Lord Alan Sugar on the famous TV show 'The Apprentice'. Within the show she interviews the final five contestants, assisting Lord Sugar in finding the best possible candidate for his investment. Not only is she a shrewd business woman, she also is an engaging speaker and motivator.
Cordell Jeffers - Award-winning entrepreneur, international motivational speaker and mindset coach.
He has worked with over 10,000 students; helping them reprogram their minds for success. In his career so far he has worked with major corporations, notably the BBC, Facebook, HP, Vans, Schuh and Greene King.
He has also been featured on national media platforms and has gained praise from Prince Charles & Richard Branson.
Like Linda, Cordell started out from humble beginnings. His first venture was buying and selling electronics online, which was very profitable at the time. He is now the founder of two growing organisations. Cordell is a results driven coach and his mission is to help as many people as possible turn their ideas into reality.
In this session Cordell and Linda will engage with you and inspire you to evolve, take action and give you the practical advice to make your dream a reality.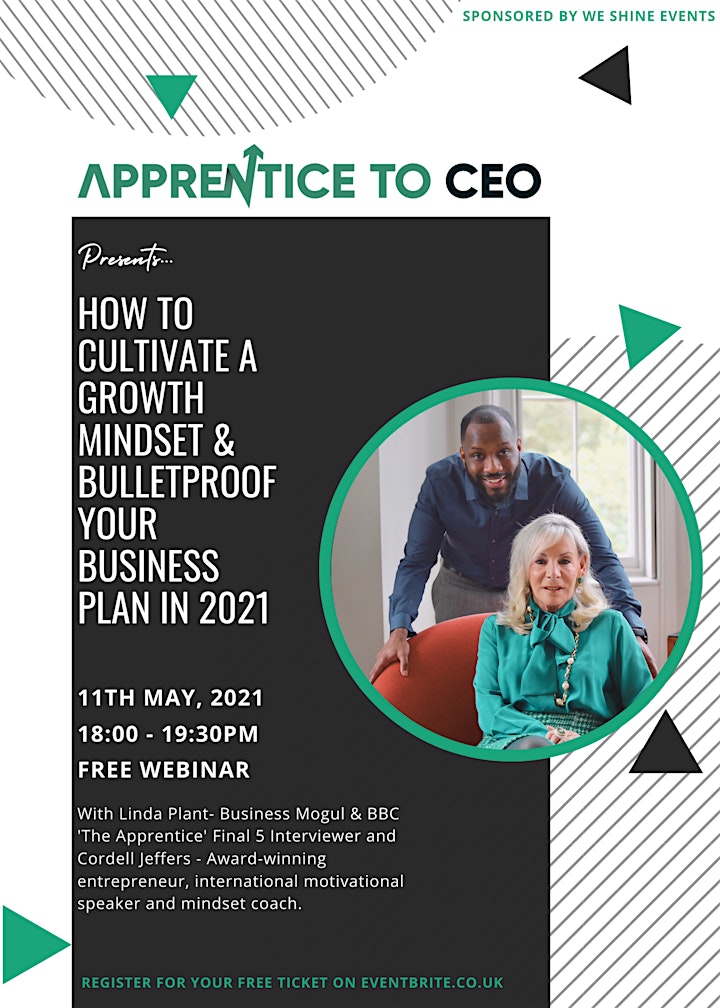 Organiser of How to cultivate a growth mindset & bulletproof your business plan in 2021