Event Information
Refund Policy
Contact the organiser to request a refund.
Eventbrite's fee is nonrefundable.
A workshop to help you look forward to learning from failure.
About this Event
Who's this for?
If you find yourself
- beating yourself up when something doesn't go the way you thought it would
- worrying about what other people think about something you've said or done
- giving up as soon as there's a sniff of pushback or doubt in your plans
and want tools and techniques to start looking at experiences more objectively, as opportunities to learn from...than this is for you.
What's the workshop about?
I've spent a lot of my life being stretched between trying to live a life of entrepreneurship and taking risks, whilst being scared of the consequences. And more importantly, mortified if things don't turn out the way I hoped they would and beating myself up in the process.
Failure is inevitable. In fact its a necessity on the road to success and purpose.
So if you find yourself struggling with these challenges and want to learn how to change your relationship with failure, you'll like what's in store.
You'll learn how to
- understand why you're programmed to fear failure
- re-look at how you set goals so failure isn't so black and white
- practice curiosity so when you fail, you're in a better place to let it go
As always, there will be fancy dress, soundtracks and plenty of fun activities and time for reflection.
Who's Josh and Big Kid At Work?
Over the last 10 years, I've done all sorts of things in and around self-development to help me work through my fears, but it took COVID and spending an abnormal amount of time with my 3-year-old (see below pic), to realise there is more to learn from him than any wellbeing practice out there.
Curiosity, bravery, creativity, living in the moment...qualities that we find so difficult as adults, but come so easy to kids.
So, combining my years of learnings with this insight, I have rediscovered my own inner kid and am transforming my life in the process.
Big Kid At Work is a platform, methodology and my personal mission to help you do the same. Let go of fear, start doing more things that actually matter to you and rediscover the effortless joy you had once-upon-a-time.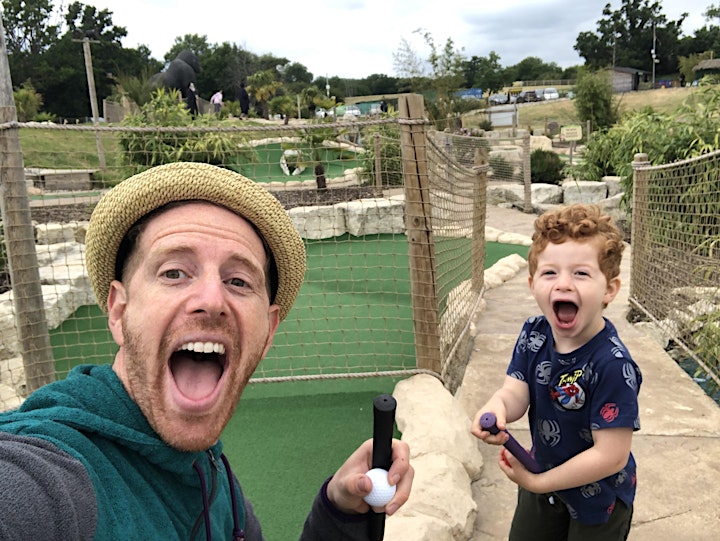 Date and Time
Location
Refund Policy
Contact the organiser to request a refund.
Eventbrite's fee is nonrefundable.