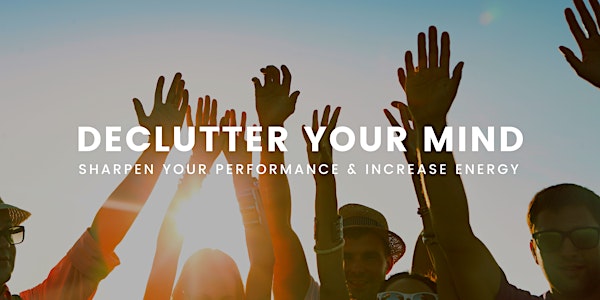 How To Declutter Your Mind, Sharpen Your Performance & Increase Energy!
Location
edinburgh
edinburgh
edinburgh
EH1 2ND
United Kingdom
Refund policy
Contact the organiser to request a refund.
Eventbrite's fee is nonrefundable.
What The Top High-Achievers Do Differently To Declutter Their Mind, Sharpen Their Performance & Increase Energy
About this event
Does life feel like driving a rusty old transit van; carrying a heavy load, falling apart, wasting valuable fuel and plodding along, hoping it never breaks down 🤞
This was me back in 2012, until I discovered a 5 step system that took me from low in energy, overwhelmed, uninspired, overweight and alone, to … waking up with eyes beaming with excitement, walking with a bounce in my step, and owning every day!
My life is balanced and fulfilled. This is true success.
WHAT DOES SUCCESS LOOK LIKE?
✔ Freedom! Managing my chaotic diary, comfortably declining pointless meetings and rewiring the inner critic with an empowering narrative,
✔ Living in the present moment, confidently asserting my voice and building deep and meaningful relationships with those that truly matter 👭👨‍👩‍👧‍👧
✔ Squished procrastination once and for all. I accomplish EVERY goal; by focusing my mind, feeling "good enough" and improved productivity.
Take hold of the opportunity to grab yourself a co-driver. 👭
Let me show you how to go from an old rusty transit van to a supercharged, future-ready, economic power machine! 🚗💨
WHAT WILL I GET?
In 22 minutes, I unravel the secrets high-achievers know about rewiring the overworked-mindset, so you can gain balance in life ... without sacrificing success.
✔ Uncover the direction of travel & improve focus
✔ Learn how to navigate the world with grace and conviction
✔ Develop an image bigger and bolder than what you believe you are
✔ Feel better about yourself, when by yourself
✔ Be free from overestimating tomorrow and underestimating the power of today
✔ How to create a vision for your life and use it to fuel your day
✔ Discover the gaps in your friendship circles and create new empowering ones
✔ Learn that being selfish is not a bad thing; it is not your job to be everything to everyone.
✔ How to prepare for today to avoid repairing tomorrow.
Free yourself from overworking and start living the life you actually want.
WHAT ARE THE NEXT STEPS?
2 simple clicks >>> Click the link below and sign up to the exclusive webinar.
https://1.gotoyellow.co.uk/get-access
Sit back, relax and unleash your inner leader in 22 minutes.
P.S. There is a special gift at the end of the webinar. I offer this for those who are determined to succeed and not make excuses.
Hope you are one that claims it.
Meet your host, Tammy Whalen-Blake
A personal development leader, an entrepreneur, philanthropist and an unwavering optimist devoted to guiding you to get out of your own way, to level-up and live a balanced yet successful life.
From a young age, Tammy's core values have remained consistent making her a natural leader whilst honouring the importance of life outside of the workplace. Before any glory, some painful growing took place. A lot of heartaches, unemployment, overweight, embarrassing mistakes (worse than your parents grinding each other at a party kind of embarrassing) and in massive debt!
Today, Tammy launched a successful business without any substantial resources, built systems to run like clockwork, grew an empowered team to achieve the mission, and has the freedom to do more in less time. These lessons coupled with leveraging her innate abilities have seen many go on to start, exponentially grow or diversify their business or careers, so they can design a fulfilled and purposeful life.