Description
PROFESSIONAL DEVELOPMENT WORKSHOP (PDW)
Workshop Series: Data Governance (PDW/DGF.1/032018)
WORKSHOP TOPIC:
DATA GOVERNANCE – HOW TO DESIGN, IMPLEMENT AND USE DATA GOVERNANCE FRAMEWORK FOR LARGE AND COMPLEX ORGANIZATIONS?
Duration: 3.5 Hours Evening Classroom based
Time: 18.00 - 21.30 Hrs

Day & Date: Thursday, 22nd March 2018

Note: If you want to learn on different date, time and settings. Feel free to drop a mail on- gcc@consean.com. We will try to check other available alternatives.
Location: Regent Street, London
Workshop Objective:
This workshop is intended to help attendees to learn best practices and techniques required to design, implement and effectively use data governance frameworks for large and complex organizations.
Target Audience
New or experienced data governing professionals, data analysts, data strategists, privacy design professionals working or intending to work in a large and complex data landscape are expected to benefit from the workshop's practical methods and guidelines.

The workshop can also be attended by business analysts and application designers/developers needing to understand the use of data governance framework and designing techniques.

It is also suitable for business professionals and managers needing to understand a best practice to govern business or technical data landscape.
Workshop Overview
Large organizations with multiple products, departments, markets and millions of customers often struggle with multiple aspects of data. It's not because they don't have technology in place or they are less skilful then their industry peers but more often because of unique spread and characteristics of their organizational data and the circumstances their organization is going through. It has been observed that data governance organizations often use generic industry frameworks which adds very little or virtually no competitive benefits.

For example- Large fashion retailer on a verge of bankruptcy will have different data governance issues to deal with when compared to a bank who wants to grow with acquisitions or a government department who needs to deal with departmental silo.

During the workshop we will focus on learning and discussing some issues related to data governance practices, role and use of data governance frameworks and how one can go about designing an effective data governance framework for complex and large organizations. During the workshop we will also discuss shortcomings of using generic industry data governance frameworks and how and when you should use them.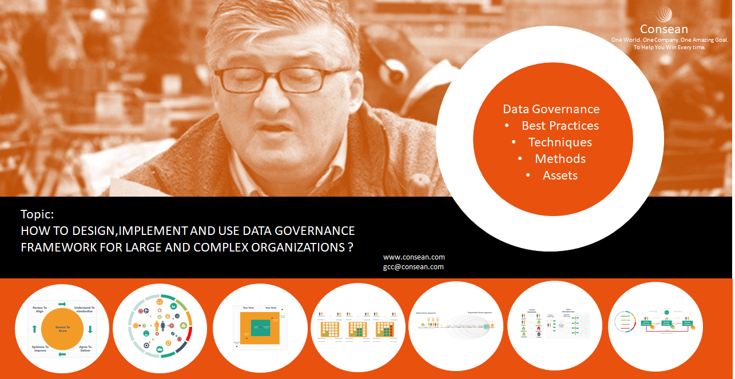 Expected Workshop Flow
Overview of Data Governance and its Role.

Understanding the organizational complexity
and associated data governance challenges.

Fundamentals of Data Governance Frameworks.

How to design data governance framework.

How to Implement Data Governance Framework.

How to Use Data Governance Frameworks.
Workshop Deliverables

Classroom based learning which also allows to interact and network with workshop attendees.
Base Data Governance template with how to use written guidelines. So, that workshop attendees can use the template to design their own data governance frameworks.
Additional,

post-workshop - 1:1 one-hour discussion time slot with trainer at mutually convenient time slot on future dates

. During this slot workshop attendees will be able to clarify their doubts and problems related to design, implementation and use of data governance framework.
About Trainer
Workshop is organized by Consean and will be delivered by Aneesh Sharma, Consulting Partner (Information Strategy & designs).
Aneesh is having 20 years of hands on industry experience in strategizing, planning, delivering, governing and managing approx 900 consulting assignments for banking and non-banking clients operating from the regions of United Kingdom, Europe, Asia, USA and Middle East. While working with IBM (Big Data Centre of Competency), Microsoft and EMC Data Systems (Now Dell / Open Text), Aneesh has delivered and implemented multiple consulting assets and accelerators.