Description
Want to connect with a hub of healthy businesses in Brighton & Hove?
Join us on the last Wednesday of each month at our relaxed, informal, collaborative networking evenings.
Our events are designed to help you to create a community of connections, exchange ideas, collaborate, enjoy samples from other local healthy businesses, and pick up industry secrets from our invited guest speakers - all aimed at helping you and your business grow.
We recognise working for yourself can be sometimes frustrating, sometimes a little isolating, Building a group of connections and surrounding yourself with people who share a similar vision and set of values is invaluable for your business - and also, importantly, for your own health and wellbeing.
Please also join our online collaborative community the Healthy Business Hub for anyone interested in running happy, health businesses with an emphasis on staying healthy yourself and avoiding burn out.
Our guest speaker this month is Life Coach, Thea Anderson.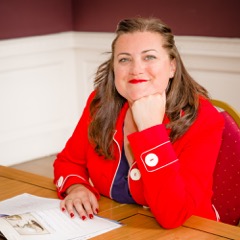 How To Embrace Your Calling:
For many of us, having a strong sense of purpose really matters. We feel lost without it. But do you really have a calling and how do you find it? How do you hone it and make it practical once you know what it is? Is it one thing or many? Like many others, Thea found hers through a crisis - in her case, recovery from devastating illness. Thea will tell her story and help you to more deeply connect with your mission (should you chose to accept it!) in this life.
Thea Anderson is the co-founder of the Wildfire Women Community and has been an Intuitive Bold Soul Life Coach for the past 10 years. She has a Clinical Diploma in NLP, Hypnotherapy and Life Coaching and is known for her ability to 'tune in' and get to the heart of the matter for her clients. She supports powerful transformation for creative, purpose led women ready to release the inner and outer blocks to making it happen in all areas of their lives.
You can reach Thea at theaanderson.com, Twitter: @TheaAndersonUK, Facebook: Thea Anderson UK + Wildfire Women
Laura Bolton from Live Pura Vida will be our fabulous pop-up promotion with Bulletproof Coffee, which can assist with weight loss and switching on our brains. Come and chat to Laura about health, wellbeing, weight loss and energy. She will be offering discount codes to Hub attendees on the night as well.
At all our events we have up to two pop-up promotions (PUP's) from local healthy business owners offering discounts and free samples to Hub attendees on the night. If you fancy 'popping-up' at one of our events, please email info@bhtherapies.com.
Limited space, so grab your tickets quick!

#entrepreneur #Brighton #smallbiz