How to Escape into Social Enterprise

Monday, 22 September 2014 from 19:00 to 21:00 (BST)
Event Details
Back by popular demand, we're hosting Tom Rippin, an ex-McKinsey management consultant who kept the 'I'll only do this for a few years and then go and do something else' promise. Read more about him in the Guardian here.
He is the founder and CEO of social enterprise leadership programme On Purpose. Tom will be talking about his own experience leaving the commercial world, the reasoning behind setting up On Purpose and giving an introduction to the world of social enterprise and some advice on how to pursue a career in the sector.
6 reasons to come
1. You want to learn more about social enterprise: organisations that use commercial ways of working to maximise social and environmental impact rather than profit.
2. You've been trying to find a route into social enterprise but you haven't been able to find jobs that seem suitable or you've been turned down for roles because you don't have experience in the sector.
3. You're interested in social enterprise but don't really have a feel for the kind of organisation that would suit you best and you'd like to understand the sector better or try a few things out first.
4. You want to get into social enterprise but have worries about how the day to day experience or long term career prospects might compare vs your current role or what the best time to make the move would be.
5. You're interested in starting your own social enterprise and would like to hear Tom's own escape and start-up story.
6. You'd love to meet some people who have and are transitioning into social enterprise to hear first-hand how it's been.
About the Speakers
Tom Rippin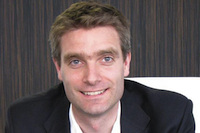 After some years researching cancer, Tom started his non-academic career at management consultants McKinsey & Company, where he worked across the private, public and non-profit sectors. He transitioned into the social enterprise space, first advising the CEO of Comic Relief on private sector matters and then working at (RED), the business founded by Bono and Bobby Shriver to help eliminate AIDS in Africa, where he was Managing Director for Europe and Director of Business Development for (RED) International. As well as On Purpose, Tom is Chairman of Spice, and a non-executive director at the Shaftesbury Partnership.
Parita Doshi
Prior to joining On Purpose, Parita studied Philosophy and Economics at LSE, where she ran an HIV/AIDS charity, before working for 3 years within the Financial Services Industry. While at On Purpose, Parita spent time at A Very Good Company and The Shaftesbury Partnership. She is now Head of Impact at Oomph! Wellness, an award-winning social enterprise project that provides fun, inclusive and effective exercise classes for older people.
Robbie Semple
Robbie originally studied Psychology and Economics at Trinity College, Dublin before going on to a Masters in Organisational Psychology at the London School of Economics. He worked at Rolls Royce for 4 years, becoming a HR Business Partner, supporting Corporate Functions. During his time at On Purpose, Robbie spent 6 months each at the Bromley-by-Bow Centre and Student Hubs. Whilst at Student Hubs, Robbie was instrumental in developing the model for graduate programme Worthwhile, and upon completion on the On Purpose Programme was named Managing Director. 
Alex Stephens
Alex studied Civil Engineering at Nottingham University, before joining Deloitte as a Tax Consultant. At Deloitte, worked on a host of international projects, specialising in advising Entrepreneurial Businesses. After qualifying as a Chartered Accountant (ICAEW) she spent her last seven months in the Operations and Internal communications team supporting the Chief of Staff on a variety of strategic projects. While at On Purpose, Alex was placed at National Citizen Service 2 and the NHS East London and the City Commissioning Support Service. At National Citizen Service 2 , Alex was part of the Strategy team where they focused on projects facilitating the sustainability of NCS and supported partner engagement. The main project involved developing and implementing a plan for the first "NCS Action Day", a national day to demonstrate and celebrate the success of NCS and its graduates. Alex finishes her year with On Purpose this October, and is headed to work at The Social Innovation Partnership.
When & Where

The Escape School
1 Frederick's Place
Bank tube - Cheapside exit
EC2R 8AE
United Kingdom


Monday, 22 September 2014 from 19:00 to 21:00 (BST)
Add to my calendar
Organiser
 Escape the City is a global community of +300,000 talented professionals who believe that life is too short to do work that doesn't matter.
We help talented professionals escape unfulfilling jobs and transition into more fulfilling work, build careers on their own terms, and start businesses that matter.
Join our Tribe at www.escapethecity.org.