Description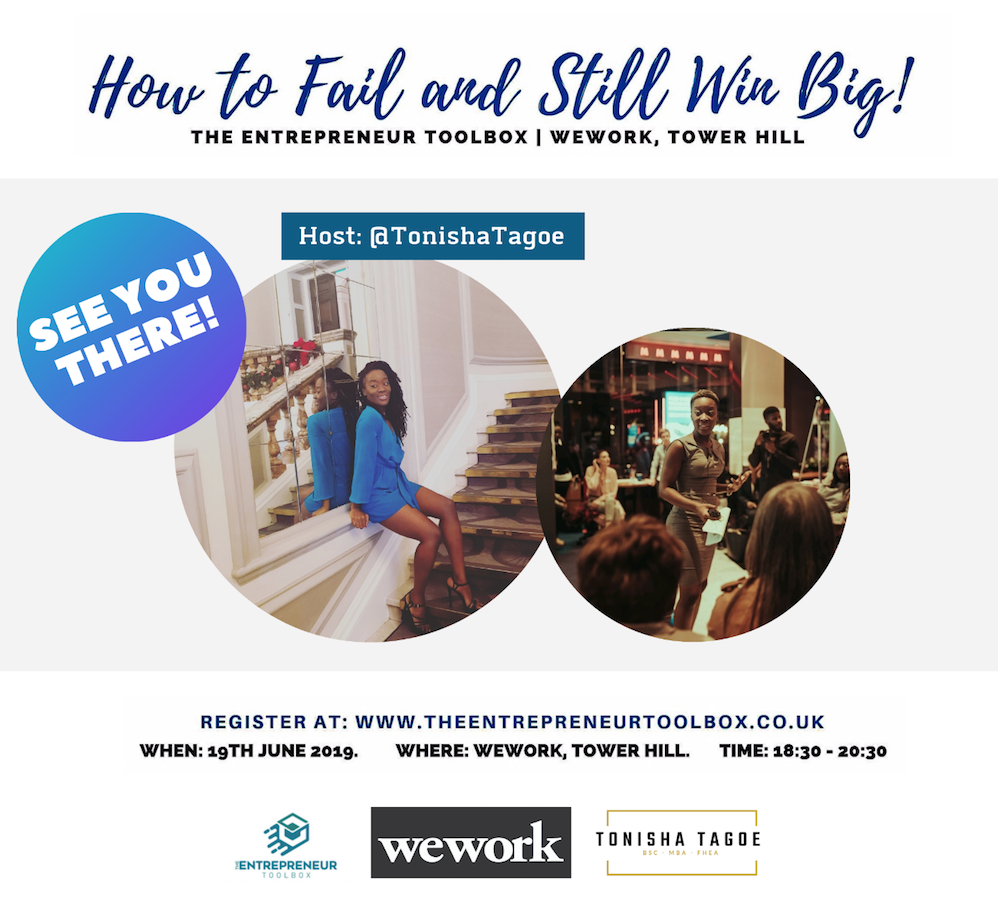 Does this sound like you?
· I'm afraid to launch because I'm afraid to fail."
· "I keep pushing things back instead of moving forward, and then I beat myself up about it."
· "I don't know how to take my passion and turn it into something meaningful with purpose."
· "I'm not sure if there's anything that special about me that makes me stand out."
· "I just don't feel like an expert."
· "What if I try, and nothing happens? What if I'm not as good as I think I am?"
· "The task at hand seems so huge, it's hard to know where to start.
According to Forbes (2019) There's never been a better time to have a side hustle!
However many off us spend day in day out succumbing to our fears and not seizing the opportunity to play to our strengths.
Social media alone shows us how entrepreneurs are increasingly able to create and build sustainable companies. So what's holding you back??? Perhaps it's time to face those fears…….
Join the LIVE Masterclass where we will explore:
>> Defining Success
>> Creating a Business That Suits Your Strengths
>> Developing & Validating Your Business Ideas
>> Earning The Highest ROI From Your MVP
>> Cultivating a Customer Base
>> Planning Your Entry Strategy
>> Financial Planning and Management
>> Mindset & Accountability
SCHEDULE
6.30pm Registration, Welcome drinks & Networking
7:00pm Introduction & Interactive Session
8:00pm Presentation
8:30pm Q&A
9:00pm Wrap Up & Opportunities
ABOUT TONISHA

Tonisha is an MBA Lecturer and Enterprise Educator by profession and founder of The Entrepreneur toolbox.
As well as delivering entrepreneurship and leadership training for Higher Education Institutions and Corporates, Tonisha is a serial entrepreneur, sits on business grant decision making panels and has been appointed to provide mentoring for accelerator programs including for one of the largest employers in the City, a major Global Investment Bank. Tonisha is passionate about education and entrepreneurship. Tonisha inspires action and real results for her growing global entrepreneur community through her open and honest dialogue and years of both practical and teaching experience.
Find out more about the Entrepreneur toolbox >
TESTIMONIALS
I've attended a lot of events over the last 5 years. I've never been to one with such a buzz, an excitement for progress and so many takeaways! So many takeaways! The speakers were fabulous and had such amazing insights to share that I could put to use immediately. Tonisha's expertise at enabling participation for guests in such an easy way made it possible for me to walk away with answers to my specific obstacles in business. This is a different kind of event than any others out there. I left completely inspired and spurred into action! I would highly recommend this event for anyone looking to start or grow their business to the next level. I can't wait to attend the next one!
Kal Atwal, Former City Leader for the world's largest entrepreneurs network12