Actions and Detail Panel
'How To Find Your Niche' for Life Coaches
Wed 21 December 2016, 10:00 – 13:00 GMT
Description
'How To Find A Niche' - for Life Coaches
Are you a Life Coach?
Too much competition?
Are you having to explain what coaching is, and when your "prospects" eventually get it, they think it's a luxury for rich and bored people?
You have heard this before:
"In order to succeed as a coach you need to have a niche"
Most coaches get stuck at this point.
Albeit one might accept it conceptually, most coaches resist to it with stubborn determination.
You may be thinking:
Where do I start? How do I go about doing it?
What if the niche I choose is not the right one?
I don't have enough experience or knowledge; I don't feel comfortable with choosing now.
What if I pick a niche only to discover few months down the line that I don't like it?
I love variety. What if I get bored of my niche?
Do I really need to have a niche? Why?
I can't figure it out. If I reduce my customer base I increase the chances for my coaching business to be successful. How does it work?
I can help people in so many ways, why should I restrict myself?
We are lucky to be in London because this city offers so many opportunities.
On the flip side, there is so much competition and so highly qualified.
How can one possibly get a slice of the action?
How do you convey to your prospects that coaching is not a luxury, but an essential part of their success, happiness and fulfilment.
If you are asking yourself the questions above, then this event is definitely for you.
Agenda
What is a niche?

Why is it so important for your business to have a niche?

The Niche Triad

Let's find your niche:
Exercises - Reflections - Practice
How to use your Niche effectively.
Learning outcomes
This workshop is designed with one promise in mind:
By the end of the workshop you will know what your niche is.

Needless to say that this event is interactive from beginning to end.
N.B. If you are not getting the traction you desire in your business, it is not down to your coaching skills or experience.
Starting a business requires a different set of skills. What you might be lacking is the first-hand experience and knowledge on how to start a successful business from scratch.
This course is for you if:
You are feeling a little low about your brand new coaching practice, and you are wondering how it will ever grow to be the business that you envisioned.

You have been reluctant to narrow down your niche as a new coach.

You are looking for positive and precise action points to move your practice forward.

Your business is not flourishing as you wished for and your confidence is dwindling as a result.

Networking isn't working for you.

You are looking for a stand-alone course that delivers your desired outcome:
To identify a viable, profitable niche for your coaching practice.




About the trainer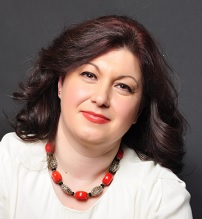 Giovanna Vasaturo MSc is the founder of Ava Strauss Ltd, a management consulting firm dedicated to helping people and companies grow beyond their expectations.
Giovanna is a business writer and author, a speaker, an executive coach and a proud "Neapolitan Londoner".
In over a decade her work has taken her in 3 continents. Her workshops and seminars on leadership and strategic planning are delivered in her engaging and personable style in 4 languages: English, Italian, French and Spanish.
Giovanna is passionate about helping people and businesses to prosper by making full use of all their existing resources. Her extensive experience and her consistently exceptional results make of Giovanna the go-to person in matters of business processes.
She is one of the City Business Library's speakers, where she regularly runs seminars on Business Strategy, Competitive Advantage and Niche.
Testimonials
"The presenter had a very deep and impressive degree of knowledge"
"Giovanna is very good – makes the subject easy to understand and she brings out what you already know and encourages you to think and apply it."
"Thank you! I am impressed by how much thinking you got going in only 90 minutes"
"This is a useful course that you must attend!"
" I thought that I had a decent understanding of marketing but these tools have helped me to see that there is so much more to learn. It is great!"
" I think the session was very informative. It was also simple and can easily be applied."
"Wonderful speaker, allowing attendees to contribute and share, used questioning to help attendees to think (so important) not just listen, and the workbook encourages continued study."
Need more help?
If you've got any questions about this workshop, please email us on info@avastrauss.com
If you need more tailored support for your strategic planning and execution, please contact me directly at gvasaturo@avastrauss.com
For anything else, please do not hesitate to have a look at the list of services that we offer.
---
---
NB: Please don't let the payment method be what stops you from coming along. I would hate for you to miss this opportunity! Eventbrite accepts only payments via Paypal, but if you want to pay in any other way, please visit http://www.avastrauss.com/how-to-find-your-niche-for-life-coaches/ or just get in touch with me personally at gvasaturo@avastrauss.com
Please note: No refunds will be given to latecomers. Cancellations may be made up to 9am the day before the seminar.
Please allow extra time to locate the City Business Library, if this is your first visit.