How to Fix Nigeria: Prospects for Change

Tuesday, 12 May 2015 from 18:30 to 20:30 (BST)
Event Details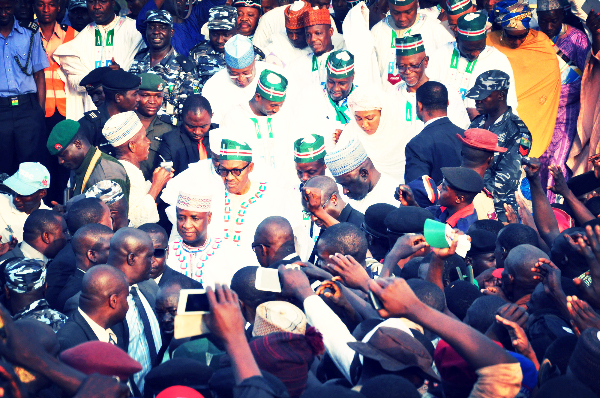 © Heinrich-Böll-Stiftung
Speakers: Jeremy Weate, natural resource governance expert; Onyekachi Wambu, Director, Engagement & Policy, AFFORD; Virginia Comolli, Research Fellow for Security & Development, International Institute for Strategic Studies (IISS); Ini Dele-Adedeji, PhD Student, SOAS. Chaired by Funmi Iyanda, broadcaster & producer, Executive Director of Creation Television
Nigeria's 2015 presidential elections have been hailed as historic; Muhammadu Buhari's victory over the incumbent president marked the first time a Nigerian leader was ousted out of office through the ballot box. The All Progressives Congress (APC) secured a strong majority, winning 15.4 million votes against the 13.3 million for Goodluck Jonathan's People's Democratic Party (PDP). Following his victory, the former military ruler embraced democracy stating: 'Our long night has past and the daylight of new democratic government has broken across the land'.
In the lead up to Buhari's inauguration in late May, expectations of the new administration are high. There is hard work ahead to ensure the health and development of Nigeria's Fourth Republic, which include the major challenges that featured in the APC election campaign such as 'the evil of corruption' and the Boko Haram insurgency. Beyond these issues are structural challenges such as the country's oil dependent economy which has suffered due to the fall in oil prices, high levels of poverty, inequality and severe electricity shortages.
Buhari's popularity is indisputable but will he be able to lead his country in solving these social and economic obstacles? Which sectoral transformations are needed to address Nigeria's contemporary challenges? Join our panel of experts as they discuss Nigeria's post-election direction and the prospects for ground-breaking and lasting change.
When & Where

Brunei Gallery Lecture Theatre
School of Oriental and African Studies
Russell Square
WC1H 0XG London
United Kingdom


Tuesday, 12 May 2015 from 18:30 to 20:30 (BST)
Add to my calendar
Organiser
Written by experts with an unrivalled knowledge of the continent, African Arguments is a series of concise, engaging books that address the key issues currently facing Africa. Topical and thought-provoking, accessible but in-depth, they provide essential reading for anyone interested in getting to the heart of both why contemporary Africa is the way it is and how it is changing. The African Arguments series is published for the International African Institute by Zed Books in association with the Royal African Society and the World Peace Foundation.
The Royal African Society is a membership organisation that provides opportunities for people to connect, celebrate and engage critically with a wide range of topics and ideas about Africa today. Through events, publications and digital channels it shares insight, instigates debate and facilitates mutual understanding between the UK and Africa. The society amplifies African voices and interests in academia, business, politics, the arts and education, reaching a network of more than one million people globally. www.royalafricansociety.org
The International African Institute (IAI) aims to promote the scholarly study of Africa's history, societies and cultures. The institute realizes its aims primarily by means of scholarly publishing. Read more about us. The IAI publishes the long established and prestigious journal, Africa, the annual Africa Bibliography, the International African Library series, the African Arguments series; and the Readings in… series, for use in tertiary level teaching of African studies.
Zed Books is an independent non-fiction publishing company based in London, UK. It was founded in 1977 under the name Zed Press by Roger van Zwanenberg. Zed publishes books for an international audience of both general and academic readers, covering areas such as politics and global current affairs, economics, gender studies and sexualities, development studies and the environment.