How to fundraise with Twitter (webinar)

Tuesday, February 26, 2013 from 11:00 AM to 12:00 PM (GMT)
Event Details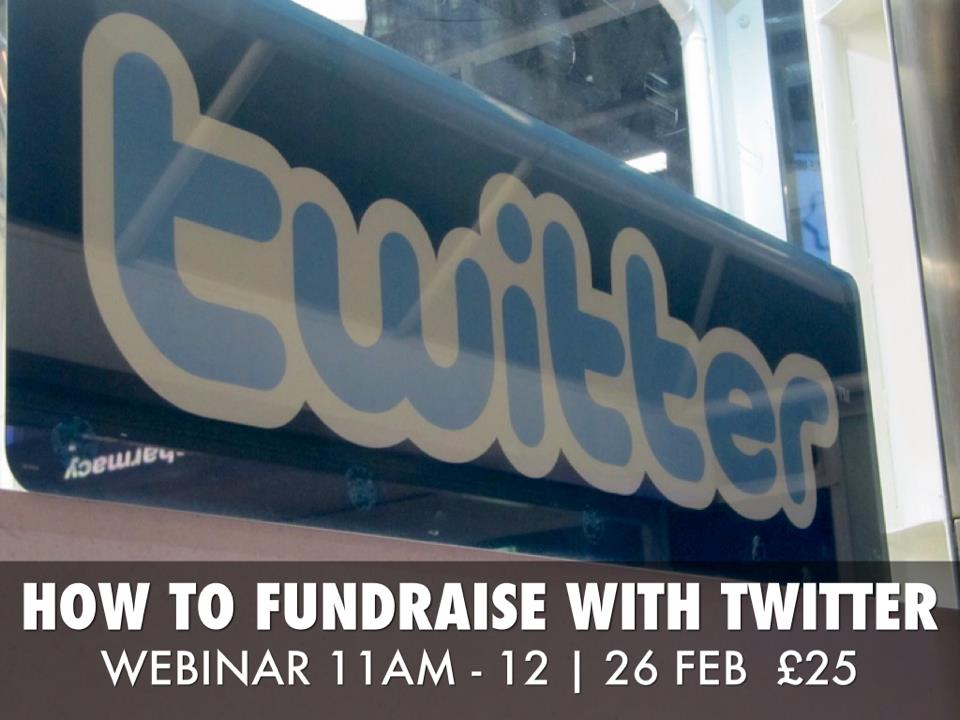 Can you use Twitter for fundraising? If so, how can your charity or group benefit from it? Find out how from UK Fundraising's Howard Lake as he guides you through getting started with Twitter as a fundraising tool.
how does Twitter fit into your fundraising plans?
 
making the most of your Twitter account and presence
 
building up your network of supporters by listening and following
 
different types of fundraising using Twitter
 

how to measure your impact
If you're looking for practical ideas and a helping hand, Howard Lake has over 18 years' experience of reporting on, thinking about, and training charities in using the Internet to fundraise.
Join us online to see Twitter in action and see examples of how fundraisers have used it.
 
How it works
The event will run for one hour, with the last 10-15 minutes reserved for questions and discussion via the webinar's chat facility.
We'll use a webinar tool that will let you login (via the Internet), no expensive phone dial-in call, with sound via your computer's speakers. There will be text chat during the session to let you ask questions or make comments.

We'll then continue the discussion via Twitter, if delegates want, to answer any further questions. 
Delegates will get a copy of the presentation slides.
We'll make a recording too of the webinar, and will sell this to those who can't attend the event (at a reduced fee of course, compared to the cost of attending the webinar). By booking a place on the webinar, delegates accept that their username and/or any chat comments they might make, might appear on this recording.

Delegates' feedback on in-person training:
"Thanks so much for a great session. I really enjoyed it and took away a lot".
Leila Molaei
Anthony Nolan
28 March 2011
"Thanks to @howardlake for yesterday's email marketing training course".
@WalesCVA
9 March 2011 
"Enjoyed the Social Media presentation by @howardlake held at @Thanks to @howardlake for yesterday's email marketing training course.chaptertweets this afternoon. Got the creative juices flowing! Thanks!"
@CylchWalesCRN
8 March 2011
"Thank you @howardlake for a very informative course today! We learnt alot and will be taking on this fantastic advice. Hari"
@CerebraUK
8 March 2011
"Great session today with @howardlake on Fundraising using Social Media. Recommend you seek out his next one. Thanks Howard"
@honeyinmyveins
23 February 2011
"Enjoying Fundraising Using Social Media with @howardlake @arts_business and @sponsorsclub at the @tynesidecinema - lots of useful tips!"
@CFTyneWearNland
23 February 2011 
"Great talk from @howardlake on Friday on Digital Fundraising - lots of food for thought. Thanks @powcharities for organising."
@InKindDirect
21 February 2011 
"@howardlake did a great course last week in London"
Sara Atkinson
Haworth Cat Rescue
23 March 2009

"Having decided that the NCPTA needed to utilise digital media to the full, we went onto open a Twitter account. The question was, what do we do next? The Fundraising with Twitter course, was a fast and furious two hours, packed with practical hints and tips, to guide you through the maze of things to consider. I came away more enlightened, with a clear idea of how to take our communication with our supporters to another level".
Jane Galbraith, Membership Development Manager
NCPTA
17 March 2009
Organizer
Publisher of UK Fundraising, online resource and community for professional charity fundraisers since 1994.
Provides practical training in digital fundraising, helps charities and fundraising companies make the most of digital, and runs the Fundraising Camp series of one-day 'unconference'-style events for fundraisers.