How to get ahead of the game: The Careers Strategy and the D2N2 approach
Description
We would like to invite Head Teachers, Careers Leaders, Enterprise Advisers and D2N2 Enterprise Adviser Network Stakeholders from across Derby, Derbyshire, Nottingham and Nottinghamshire to an event which will provide an update to the Careers and Enterprise Company implementation of the Careers Strategy nationally. You will have the opportunity to see local examples of good practice linked to the 8 Gatsby Benchmarks, and SEND.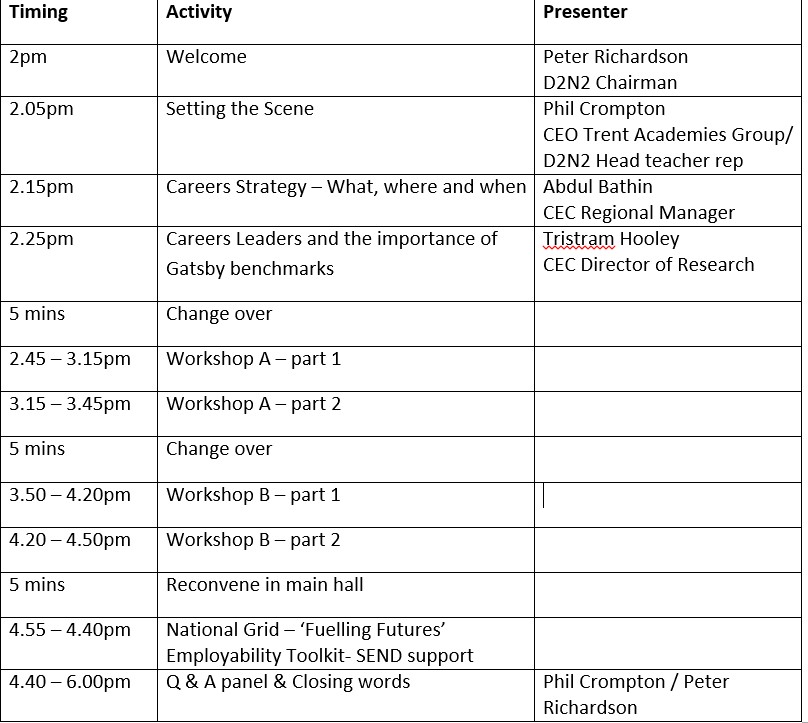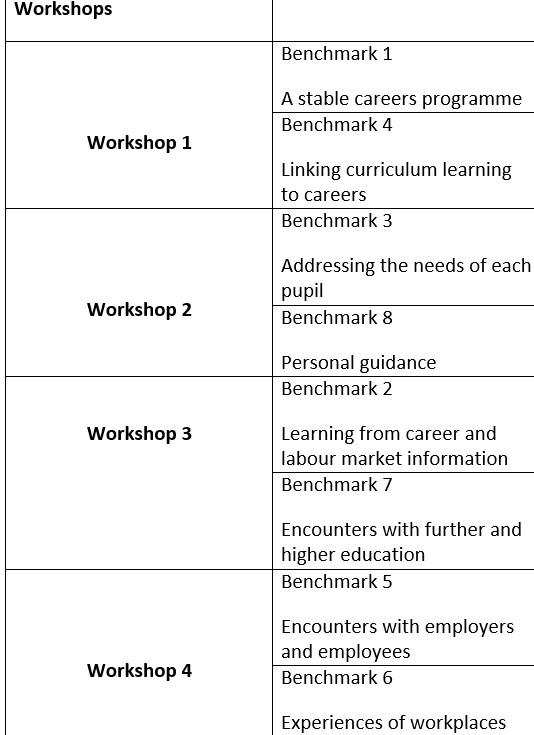 *** IMPORTANT NOTICE***
This event is for school staff, enterprise advisers and invited stakeholders only. If you are not any of the mentioned please do not register for this event without approval from the D2N2 LEP.
*** IMPORTANT NOTICE***
There will be filming at this event for a small series of videos focused around the Gatsby Benchmarks. Please be aware that filming will be taking place throughout the full event. If you do not wish to be filmed at any point please let an organiser know upon arrival.
If you or your school are intersted in been involved in this series of D2N2 Gatsby Benchmark videos please email liam.jackson@d2n2lep.org
This event has been funded by DANCOP http://www.teamdancop.co.uk/
Background
D2N2 is the Local Enterprise Partnership (LEP) for Derby, Derbyshire (D2), Nottingham and Nottinghamshire (N2). Local Enterprise Partnerships are locally-owned partnerships between local authorities and businesses. They play a central role in deciding local economic priorities and undertaking activities to drive economic growth and create local jobs. D2N2 is one of the largest LEPs in England covering an area with a population of over two million people and economic output of around £42.9billion.
Our vision is a more prosperous, better connected, and increasingly resilient and competitive economy. Our purpose is to support and encourage economic growth in D2N2. Our ambition is to be one of the most respected LEPs, known for our professionalism and effectiveness.
The D2N2 Enterprise Adviser Network is part funded by:
Derbyshire County Council, Futures Advice, Skills and Employment, Chesterfield & Bolsover Learning Community, Rushcliffe Borough Council, The Evolve Trust
Careers Strategy – December 2017
https://www.gov.uk/government/uploads/system/uploads/attachment_data/file/664319/Careers_strategy.pdf
Statutory Guidance for schools – January 2018
https://www.gov.uk/government/uploads/system/uploads/attachment_data/file/672418/_Careers_guidance_and_access_for_education_and_training_providers.pdf
Statutory Guidance for colleges – February 2018
https://www.gov.uk/government/uploads/system/uploads/attachment_data/file/679639/Careers-Guidance.pdf