How to get featured in newspapers

Tuesday, 27 March 2018 from 18:00 to 20:00 (BST)
Event Details
Would you like to be published in a magazine?
Being published in a magazine or newspaper can raise your profile as an entrepreneur or businessman/woman, raise brand awareness and will add more credibility to your business.
But how does one get published?
Well, you will learn by attending our event.
We will have a PR director and the editor-in-chief of
Global Woman Magazine doing presentations on how to get published.
Our speakers
Lina 
Founder of Newspapers Extra, in the UK serving the Latin American community.
Extra News prints 20.000 copies every month and serves the Latino community with articles, adverts and news about London and South America. Lina also has a radio show for women, broadcasted every Thursday 4-6pm. Lina will be sharing what makes a good article when you are pitching to a newspaper editor, so you can get published.
Dan Sainsbury
Business Psychologist   
Dan Sainsbury is a leading international psychologist who is well-known for clearing life-long issues in the space of minutes.
Start-ups and growth companies use Dan as they know that advanced psychology is the key to achieving rapid growth without stress or overwhelm, by using the mind in the most optimal way.
They do so by understanding:
* Their Highest Vision for their company
* The Optimal Strategy to achieve the vision
*How to clear psychological blocks like fear of success and fear of public speaking 
*Advanced sales techniques that open and close deals quickly
Catriona McAllister
Catriona McAllister is a Public Relations and Communications Student at the University of Greenwich. Originally from Northern Ireland, Catriona has travelled across the world spending a year working in New Zealand. Having worked in PR across many industries, Catriona knows how to execute the perfect press release.
She has worked in the hospitality, automotive and pharmaceutical industries with her roles mainly focused on increasing sales through digital communication, print media, internal training and event planning. Most recently Catriona has worked with luxury brands such as Jaguar Land Rover and Wiley's Finest in improving their sales through PR. In her spare time, Catriona manages her own blog where she regularly posts about PR, current affairs and lifestyle.
Catriona has seen her work published in online magazines Behind The Spin and PR Place on numerous occasions. With her flair for writing, Catriona will be discussing her top 5 tips for writing press releases.
So, what is PR or public relations?
"Public Relations is the discipline which looks after reputation, with the aim of earning understanding and support and influencing opinion and behaviour. It is the planned an sustained effort to establish and maintain goodwill and mutual understanding between an organisation and its publics."
Chartered Institute of Public Relations.
By doing PR, you try to convince journalists to write about you / your business and build an excellent reputation for your business.
If you succeed in being featured, you increase your credibility - the more "they" talk about you, the better - but it can be challenging to convince journalists to accept your press release (the official document statement sent to journalists).
Benefits of doing a PR campaign and being featured in the media :
- on some occasions, you are invited to give TV and radio interviews;
- you raise your profile;
- you are invited to write articles to be published in well-known newspapers;
- you can use the magazine and newspaper logos on your website to say "Featured in", which gives you and your business more credibility; 
- you are invited to speak at events, conferences and seminars;
Join our event and learn how to get published!
"WeWork is a platform for creators, a collaborative co-working space for community members to connect and do what they love. The "We" mentality is facilitated through events, community support, and member interaction within the unique and inspiring spaces designed for creativity and collaboration."

When & Where

WEWORK
12 HAMMERSMITH GROVE
W6 0NW London
United Kingdom


Tuesday, 27 March 2018 from 18:00 to 20:00 (BST)
Add to my calendar
Organiser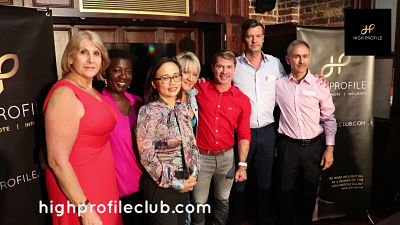 HIGH PROFILE CLUB is a Tech PR platform that raises the profiles of our members. We help build your personal brand by introducing you to the media for features in magazines and newspapers. We run four events monthly between London and Leeds where you're given the opportunity to do public speaking and to network with hundreds of guests.
Our mission 
To raise the profiles of our members so they become more visible, more credible, and more influential.
Our vision
To see our influential members change the world for a better place.
Contact credibility@behighprofile.com

The founder
Rafael dos Santos is a multi-award-winning entrepreneur and international speaker listed on the Sunday Times List "Top 100 Most Inspiring Entrepreneurs in the UK".
Rafael's award-winning TEDx Talk 'What It Takes To Be A Migrant Entrepreneur' has been watched over 154.000 times.
Rafael will get you featured in newspapers and magazines - he has featured in Forbes, BBC, Evening Standard, The Guardian, Daily Mail and has given tv and radio interviews to most channels. Rafael list of media contacts will help you become more visible, more credible and more influential.