Description
Are you a songwriter, producer, solo artist or in a band? Or maybe you're a music publisher, DIY label or manager? Whatever you're doing, it's crucial that you understand the way the music industry works. Join PRS for Music and a panel of experienced professionals to find out how the business operates and how to make it work better for you.

PRS for Music are proud to be official partners of Independent Venue Week 2018, an initiative which champions and puts a spotlight on hundreds of independent, grassroots music venues all over the country.
Doors - 4.30pm
Panel - 4.45pm-5.45pm
Show - 7.30pm-Late
Panellists:
Andy Ellis (Moderator - PRS for Music)
Adrian Utley (Portishead)
Claire Rose (Education & Outreach Manager - PRS for Music)
Andy Warnock (Regional Officer - Musicians Union)
Sarah Mhamdi (Grade Management - Seth Troxler, Eats Everything, Blond-ish & more...)
Adam Devonshire (IDLES)
The panel will be followed by a show in the evening (poster below), curated by Bristol legend Big Jeff. There are 20 free tickets available for panel attendees, these are on a first come first served basis and you need to select the 'Panel + Show' option to receive your free ticket.
A representative of 'Attitude is Everything' will also be present and providing you with key information about what they do and how you can get involved.
Look forward to seeing you there!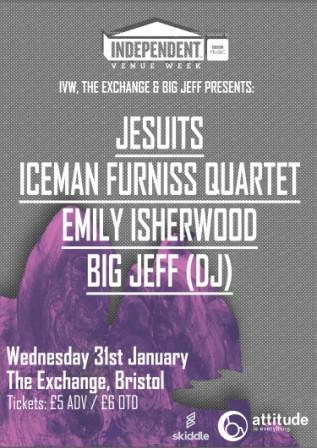 About PRS for Music
PRS for Music represents the rights of songwriters, composers and music publishers in the UK and around the world. As a membership organisation the company ensures creators are paid whenever their music and songs are played, performed, broadcast or reproduced in public and provides business and community groups with access to 22.2 million songs through its music licences. With over 100 representation agreements in place globally, PRS for Music's network represents over two million music creators.
In 2016, the organisation collected over half a billion pounds (£621.5m) on behalf of its members, making it one of the world's leading music collective management organisations. www.prsformusic.com
Organiser of How to Get Started in the Music Business, presented by PRS for Music