"How to Get Started with   Predictable Revenue...     for CEOs, Sales & Marketing Directors only"
with
Rod Sloane
"UK's Number 1 Predictable Revenue Expert"

Thursday 21st November 2014,
O2, 229 Tottenham Court Road
London W1T 7QG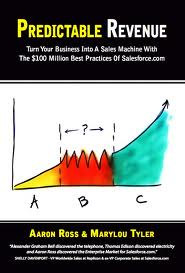 Predictable Revenue was published in July 2011. It has gone onto have a major impact in both Sales and Revenue thinking.
Discover the outbound sales process that, in just a few years, helped add $100 million in recurring revenue to Salesforce.com, almost doubling their enterprise growth...with zero cold calls.
Predictable Revenue is NOT just another book about how to cold call or close deals.
Predictable Revenue is an entirely new kind of sales bible for CEOs, entrepreneurs and sales VPs to help you build a sales machine.
What does it take for your sales team to generate as many highly-qualified new leads as you want, create predictable revenue, and meet your financial goals without your constant focus and attention?  
Predictable Revenue has the answers! 
Why You Need to be at this 
90  minute Seminar
Find out the three fatal sales mistakes sales leaders make

Learn how to build an outbound sales machine that can triple your pipeline

Find out why salespeople shouldn't prospect 

Discover how to hire and grow the best kinds of salespeople

Appreciate what it takes to create sales growth that scales
You will walk away with specific ideas and actions that you can begin implementing the next day to begin increasing sales.
If you want to know how to resolve the above challenges book your place now.
This seminar is free to attend but specifically only for sales and marketing directors, maximum two directors/company. Limited availability. We ran a similar seminar earlier this year which was heavily over-subscribed.
84% of previous delegates rated this event Very Good or Excellent
Who Should Attend?

Regardless, of whether you are an experienced sales director or a marketer for more than ten years, you'll find this seminar has the material to build your company' revenue bigger, better and more profitably. If you are serous about working with more clients and earning more money yourself this seminar is for you!