'How to Get the Ring on Your Finger' Book Signing & Discussion
Description
What are the 3 THINGS our brothers suggested women do BEFORE trying to get the ring on their finger?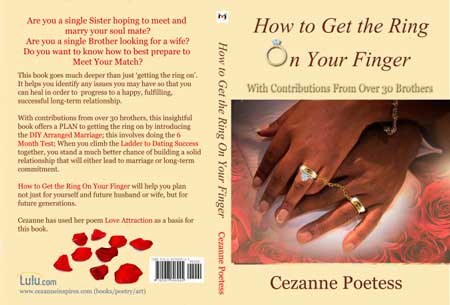 Join me on Thursday 9th February between 6-7pm for my Presentation based on my Self-help book 'How to Get the Ring On Your Finger' which has contributions from over 30 brothers!
The book will help you PREPARE to meet your match, suggests ways and places to meet (including my events!), and then guides you through the whole dating process, by introducing the 'DIY Arranged Marriage', which involves doing the 6 Month Test! I will break these down in my short presentation, and give you the opportunity to ask any questions.
Download the e-book FREE when you subscribe at www.journeyofasister.com, then come and join in the discussion!
Make a donation of £8.00 and claim your personally signed paperback on the day!
I will be at Harlesden Library from 5-6pm to do book signings, as I have to leave at 7pm sharp!
Looking forward to seeing you there!
Cezanne Taharqa aka Cezanne Poetess