Description
A lot of small businesses always feel they need money in order to successfully grow their online brands. I genuinely feel creativity is the key, you need to two ingredients to achieve this which is excellent research skills to identify gaps in social media influencers page and providing amazing video content to fill that gap. Personality sells, so before you decided to focus all your energy on the product, you have to understand the person selling the product can also be a vital tool to grow your brand online. Your business is a media agency before anything else, this is how you win online!
Join Natwest busienss growth Enabler Vicky Stevens for Croydon business month with this engaging presentation Delivered to you by:
Obed Yeboah Director, Obeds HUB | Founder | YEUK AM | BLP CTC WINNER |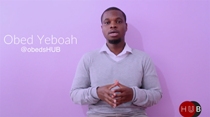 Obed works with entrepreneurs to develop their business ideas, he also teaches entrepreneurs how to create results using the advantages of being a small brand. He is an award winning social entrepreneur and runs a podcasting channel called 'How To Hustle An Entrepreneur'; Obed sold his first business "CVsnip" that he started in his second year at Leeds Beckett University in 2016.
Agenda:
12:00 - 12:30 - Registration & Lunch
12:30 - 13:30 - Talk
13:30 - 14:00 - Networking & Close
Drinks and lunch will be provided We look forward to welcoming you on the day!