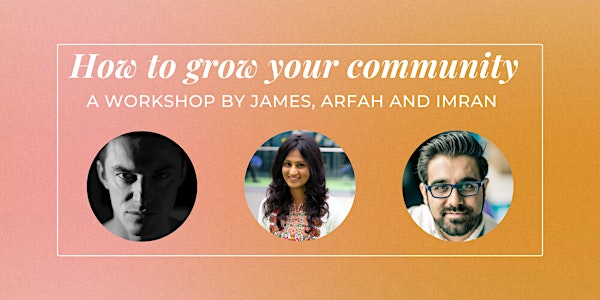 How to grow your community
Refund policy
Contact the organizer to request a refund.
Eventbrite's fee is nonrefundable.
How to grow your community
About this event
In this practical workshop, Arfah, James and Imran (Community experts - see bios below) will share techniques and tools on how you can grow your community.
To get the most out of the workshop, participants should have a specific community they want to help grow. Pairs and groups from the same organisation are welcome.
This is an online course delivered via Zoom (test your set-up here).
Workshop outline
Communities come in many forms. Growing a community, yet trying to keep the community feel, can be hard work. Often organisations don't understand the complexity of communities, or get why they're important.
This workshop will equip you with the tools you need to take your community to the next level.
We will cover:
getting your strategy ready - different types of community, types of growth and getting the resources you need,
doing your research - different research methods, developing listening skills, wants vs needs,
getting ready to deliver - implementing growth, creating a programme of activities, and thinking about metrics.
About your facilitators
We're 3 community experts who are collaborating and bringing our knowledge together to deliver training. We'll be delivering a series of workshops over the community year.
Arfah Farooq
Arfah is a lifelong community builder and advocates for diversity and inclusion. Arfah co-founded Muslamic Makers, a community of Muslim Changemakers who upskill & pioneer the world of tech. Muslamic Makers was recently listed as The 100 Most Innovative Global Muslim Startups to Watch. Arfah is a multiple award winner, from top 30 London Tech Week Changemaker in 2018, Top 20 women in the software power list in 2021 by Google for Startups and Makers. She was also shortlisted for the Muslim Women Awards and We are Tech Women awards.
Arfah's has vast experience in the private and public sector. For the UK Government, she built an internal community of 1,500+ product and delivery managers, built and launched the first Number 10 Innovation fellowship program to get senior talent into government, and built out the AI community in healthcare in NHSX. She is also an Angel Investor, helping startups as part of the Ada Ventures Angels programme to invest in underrepresented talent.
Imran Hussain
Imran is a serial dot-joiner. He loves learning from others and often builds communities to facilitate this, such as the community around GovCampNorth
He has been managing communities for over a decade across the education, tech and gov sectors. His experience ranges from managing individual communities, to leading ground-breaking community and culture-change programmes. From working as a community designer on the world-leading GOV.UK Design System, to leading a programme for over 1,500 communities at Defra group.
Imran is passionate about social good, leading several collaborations across the public sector. He is currently working with over 70 organisations (such as Ordnance Survey, the GeoSpatial Commission to local councils) to build consistency in the way maps are used in public services
James Arthur Cattell
James loves to find people, connect and facilitate collaboration between them. He learnt how to do the same online when he joined Twitter as @jaCattell in 2010. That same year he attended his first unconference (a event where attendees collaborate to set the agenda) and went on to lead the United Kingdom Government Camp UKGovCamp for several years, where he also edited the unconference in a box guidance.
In 2014 he became the first community development manager in the Civil Service, and edited the community development handbook for GOV.UK. In 2017 he became involved in the OneTeamGov unconference and went on the create the space for it to grow into a multi-continent movement.
A geek by training, James is happy translating deep tech to plain English and back again. He's just as happy helping developers as he is designers. James is married to fellow Civil Service Janet Hughes and they live together in London, England.