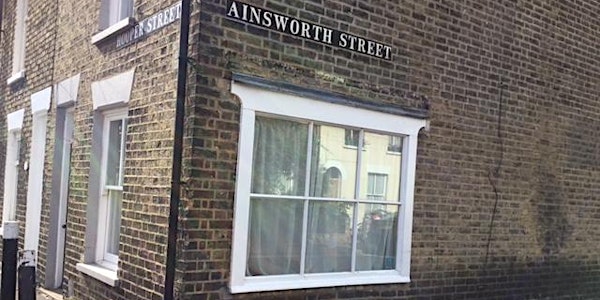 How to Guide: Research Your House History at the Cambridge Festival
Helen Weinstein showcases sources from Sturton Town in Cambridge telling stories of working class residents from the Victorian Era onwards
About this event
This illustrated talk is by Public Historian, Helen Weinstein introducing a wide range of examples from the Sturton Town Area just off Mill Road in Cambridge, where Helen is working with the local residents linking the material objects in the Museum of Cambridge, telling stories of working class residents from the Victorian Era onwards.
Helen will show how to use well known sources like the 1891 census and the trade directories, examples of what to find in newspaper and photography archives at the Cambridgeshire Collection; what histories are revealed when you dig deeper into the Cambridgeshire Archives with fascinating stories about the allotments, commons and parks, public health and sanitation, pub and brewery licensing, workhouse and charitable committees to illuminate the hidden histories of individual Victorian streets and their residents.
Q&A The talk will be hosted by Lucy Walker, Chair of Trustees at the Museum of Cambridge; and Helen & Lucy invite you to ask questions in response to the talk; also share photos or objects you've found associated with your own house history!
MUSEUM OF CAMBRIDGE DONATIONS This talk is free and we are running it as a fundraiser for the Museum of Cambridge that needs support now, more than ever during the pandemic, so if you can please donate a suggested amount of £5 or more, if you are able to, the Museum Trustees will be really grateful. You can find info on how to donate to the museum here: https://www.museumofcambridge.org.uk/support-us/your-museum-needs-you/
BLUE PLAQUE EXHIBITION S & STREET TRAILS Helen Weinstein is producing a blue plaque exhibition in partnership with Residents and Businesses to display he census information from 1891 in their windows of Victorian homes and former shops and brewhouses on Ainsworth, Hooper, Kingston, Sturton and Sleaford Streets, telling the stories of working class residents. This window exhibition will be exhibited in phases over this year, and the first pilot phase is on Ainsworth Street and is free to view from Monday 29th March to Sunday 4th April to coincide with the Cambridge Festival. For this event, there will also be 'popup' exhibition materials produced by Helen Weinstein and Hilary Cox Condron at IronWorks, displayed on the streets.
We hope also to showcase some of the 'found 'objects Helen has researched with today's residents alongside material objects at the Museum of Cambridge, linking the Victorian collection to the occupations and pastimes of past residents who lived in Sturton Town in the Victorian era.
Most importantly is the involvement of KS2 students at local schools learning about history sources, so you'll see individually fashioned 1891 blue-plaques as artworks by school students, and as researched texts written by Helen Weinstein and members of the Ainsworth Area Residents Association; illustrated by blue-plaque artwork by St Matthew's Primary School telling the story of Victorian residents; with census documents and research support kindly funded from the Cambridgeshire and Huntingdonshire Family History Society: https://www.cfhs.org.uk/
STURTON TOWN FILM BY HELEN WEINSTEIN
If you are shielding and unable to visit the exhibition in situ, you can find most of the information about the development of Sturton Town by Joseph Sturton in the 1870s to 1890s in a short introductory film presented and produced by Helen Weinstein , free to view here: https://vimeo.com/450904312
HELEN'S SUGGESTIONS FOR KEY SOURCES FOR RESEARCH
Links to resources used in Cambridgeshire Collection at the Central Library:
https://www.cambridgeshire.gov.uk/residents/libraries-leisure-culture/local-studies/cambridgeshire-collection
Links to sources in the Cambridgeshire Archives at Ely:
https://www.cambridgeshire.gov.uk/directory/listings/cambridgeshire-archives
ARTEFACTS & EXHIBITION Also, as Community Historian for IronWorks Helen Weinstein has co-curated an Exhibition at the Museum of Cambridge called "Forge" alongside local residents in Sturton Town and Artist in Resident at IronWorks, Hilary Cox Condron; which we invite Cambridge Residents to attend, during Museum Opening Hours which you can find here at our online exhibition website: http://resonance-cambridge.co.uk/forge/