Bringing cross-sector organisations together to empower young people to make a positive difference: lessons from EmpowHER
About this event
In celebration of the Power of Youth and Volunteer's Week, this conference brings together national partners UK Youth and British Red Cross, youth workers and young people from their EmpowHER programme to talk about the potential of cross-sector partnerships and engaging young people in national organisations.
In this, the first of two national events sharing learnings from EmpowHER, UK Youth, British Red Cross and Spirit of 2012 will present key findings and lessons from their 3.5 year social action and wellbeing programme.
This first event will shine a light on the potential for better partnership working between national charities and the youth sector, harnessing the power of youth to become incredible volunteers and supporters of national causes from the environment, to domestic abuse to homelessness, and providing opportunities for collaboration between the two sectors. It will go into detail on what works, what's difficult and what not to do! And we will hear from key members across the three organisations as well as young people and youth workers on the EmpowHER programme.
There will be sessions running concurrently so you can choose from a range of speakers and sessions covering different topics across the event.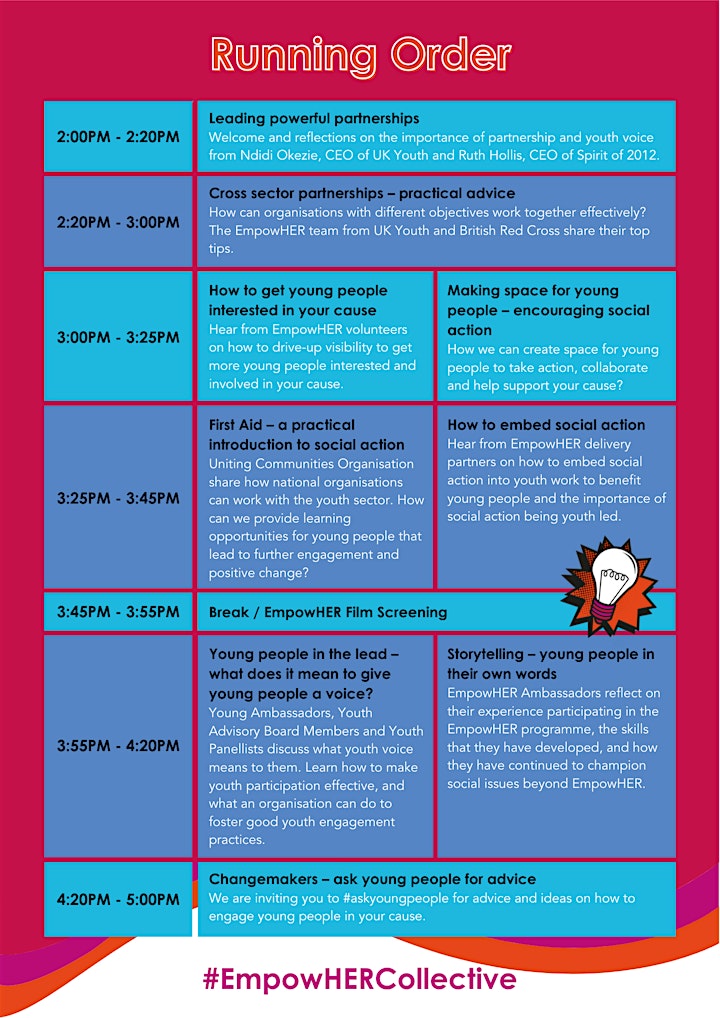 In our final panel of the day, we are inviting you to #askyoungpeople for advice and ideas on expanding your reach and better engaging young people in your cause. To take part, just fill out the form with your organisation's information and your key questions and you may be the lucky organisation getting live advice and feedback on the day.
Lastly, you should attend this event if :
You are a national organisation looking to reach young people and embed youth voice in your work
You are a youth organisation or youth worker wanting to provide opportunities for social learning and social action for young people
You are a funder interested in funding effective cross-sector partnership La
Join us on 3rd June if you want to power-up your partnerships.
EmpowHER
EmpowHER inspires young women and girls to lead change in their communities. Launched to mark the centenary of women's suffrage, the youth programme encourages young women and girls to use their voices for positive change – just as their predecessors did 100 years ago. Led by UK Youth in partnership with the British Red Cross and Young Women's Trust, EmpowHER addresses the worryingly low levels of wellbeing amongst young women and girls in the UK and supports them give back to their local communities through inclusive and meaningful social action opportunities.
EmpowHER is a three-and-a-half-year programme funded by Spirit of 2012 and the #iwill Fund. The National Lottery Community Fund and DCMS are each investing £25 million seed funding to create the #iwill Fund. Spirit of 2012 is acting as a match funder and awarding grants on behalf of the #iwill Fund.

Organiser of How to have powerful partnerships
UK Youth is a leading charity that exists to ensure all young people are equipped to thrive and empowered to contribute at every stage of their lives. We work with others to ensure that the youth sector is strengthened, supported, and that provision is youth-led, evidence-informed and delivers high-quality outcomes.
UK Youth plays a unique role in addressing; the lack of investment in the youth sector, the lack of cross-sector understanding in how youth work makes a difference and the limited opportunities to embed effective solutions. These factors lead to mass inequality of access to youth services for young people.  To find out more, visit the UK Youth website.