How to help your child save for their future - 1st July , 7-9 PM
About this Event
Want to teach your children how to be a smart saver & avoid financial issues in the future?
Does your child refuse to save their money?
Join Fun-ancial Freedom Webinar
Discover How To Set Your Children Free From Financial Worries Forever
More and more adults are falling into financial difficulty, through bad credit, loans, mortgages etc in fact the #1 fear for most adults is running out of money.
The solution? The next generation need to get EDUCATION - to get MONEY SMART - to avoid the situation many adults are finding or will find themselves in.
With the right education the child or teen in your life is capable of achieving amazing things. Whether you're a parent, a grandparent, an aunt or uncle, or even a big brother or big sister, we want to help your child or teen gain mastery over a subject matter that terrifies most adults.
Join Paul O'Mahony, award-winning International public speaker, and three times bestselling author specializing in Digital Marketing, Mindset and Wealth Management for an online web class this Wednesday 1st July that could transform a loved one's financial future.
Paul is going to teach you the secrets to getting 7 to 17 year olds to become financially smart, to securing their financial future and banishing away the worries that many adults have.
From a very simple SAVING SYSTEM that any child/teen can get their head around (setting them up with a savings habit that will serve them their whole life) to teaching them to not just think about getting a job but to create REAL wealth, this web class is something truly unique.
And don't worry, we will be showing you how you can pass this knowledge on in a fun way!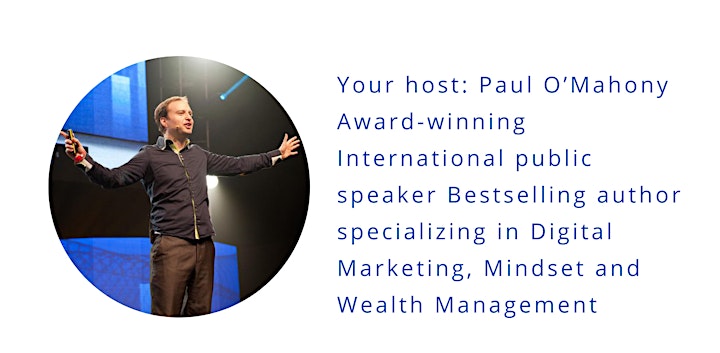 Progressive Success is a training company located in Peterborough, Cambridgeshire.
Progressive Success is not a fluffy 'personal development' company, but a supportive, inspired community to help you make money and make a difference in the areas of life most important to you.
The founders of Progressive have made a dent in the world through property, business, internet, authoring, personal branding, mindset and training tens of thousands of people across the world, across 7 companies to do the same for themselves and we'd love to help you do the same, handsomely profiting in the journey.
Progressive Success aims to help you achieve the above, personally and financially with empowerment, support, care and an existing, high-achieving community. We believe in serving you to be your real authentic self and make a difference being (and discovering) who you really are.
Disclaimer:
On ordering your free ticket, your contact details only will be passed to Progressive Success only.