Learn how to increase your online sales revenue by attending this free webinar. Book your place today.
About this event
The online marketplace is getting more crowded with each passing day, and many businesses are struggling to turn website visitors into loyal customers. Even more challenging, how are you supposed to get your target audience to visit your website in the first place?
Central and foundational to sales is the recognition that the better you know your target audience, the more likely you'll be to convert them into paying customers.
Here's a hint: Your target audience is not "everyone" unless you're Google. If you say your website target audience is "pretty much everybody" or "anyone interested in my services," you don't have much of a chance to boost conversions.
If you want to increase conversions, you have to figure out who exactly is your primary target audience, what they want, what matters to them, and what are the sources of friction for them.
But you're not alone on this journey. Join us for this free webinar as we unpack how to identify your online target audience with the aim to sell more. There'll be case studies of how other businesses have gone about this process and practical next steps to empower you moving forwards.
OUR PROMISES
We're passionate about supporting startups and small businesses
We're not trying to sell you anything
We won't ask for credit or debit card information
The webinar will be informative and helpful
You'll get the keys to turn your business into a success
It'll be time well spent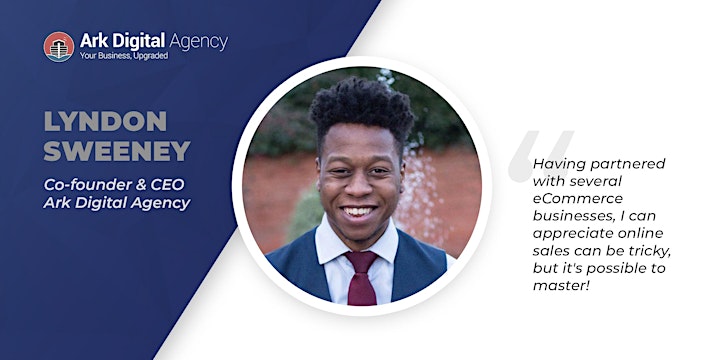 OUR SPEAKER
Since beginning Ark Digital Agency, Lyndon's had the privilege of working with many startups, small businesses and non-profits to help them rocket their growth. With his expertise in marketing and branding, he's been able to position companies in such way that has elevated their output.
Lyndon was born in Manchester, England and has enjoyed the opportunity of speaking in various countries around the world. He's supported the rise of other young people through his non-profit ventures and is currently serving as the Marketing Director for Hyve International, a global entrepreneur community.
MORE INFORMATION
Learn more about Ark Digital Agency by visiting our website.