Sales Have Ended
Registrations are closed
See you soon Wonder Woman!
Sales Have Ended
Registrations are closed
See you soon Wonder Woman!
Join us as we cover the lowdown on pensions and portfolio investing. Got a question? You can ask the expert yourself!
About this event
According to research from Close Brothers "Women fare worse than men across all areas of financial wellbeing." [Source: The ft] Not only this but women retire with ⅓ of the pension men do and we want to change this so we have partnered with Penfold to bring the Found & Flourish community a free webinar covering all things pensions.
Chris Eastwood, co-founder of Penfold will talk through how investing in a pension is a great way to secure your financial future, the tax benefits of having one and what you need to set up. There'll be plenty of time for Q&A too!
Who is this for?
This is for anyone who identifies as a womxn in business and who wants to know more about pensions and investments.
You either...
Have a pension and you want to switch it
Don't have a pension and want to start investing now
Are a Penfold customer and want to know more about how it works
This will be a safe space to ask all the questions you have on pensions, transferring funds and investment portfolios.
Why are we hosting this event?
Loads of our members have signed up to Penfold and are loving it. However after multiple conversations with the wider community, it's clear that many of you still don't have a pension. So we decided to make it super easy and accessible for you to find out what your options are. Sign up to our webinar to get the lowdown on how to invest in your future.
P.s. If you sign up to Penfold using our referral link, once you've made your first deposit, Penfold will add £40 straight into your pension pot! This is an exclusive offer for you guys only. So grab it while it's hot!🔥
What will you learn?
The basics of a pension, how to set one up and why you need one
Tax benefits, tax relief and how to make the most from the tax man!
What you need in order to switch your pension from an ex-employer
PLUS a Q&A at the end to answer all your questions
How long will this session run for?
This will be an interactive session and will run for 45-60 mins which will include an opportunity for Q&A.
Looking forward to seeing you soon!
Team F&F✌️
*Disclaimer - As with all financial investmest capital is at risk.*
Penfold are FCA approved and protected by FSCS.
About your host
Lara Sheldrake
Lara is the Founder of Found & Flourish, a womxn led organisation empowering women in business through community, services and events. With a background in advertising and social media strategy, Lara has over ten years experience working with early stage startups to household brands.
Lara hopes by putting on events such as this one she can support other women to found and flourish in business.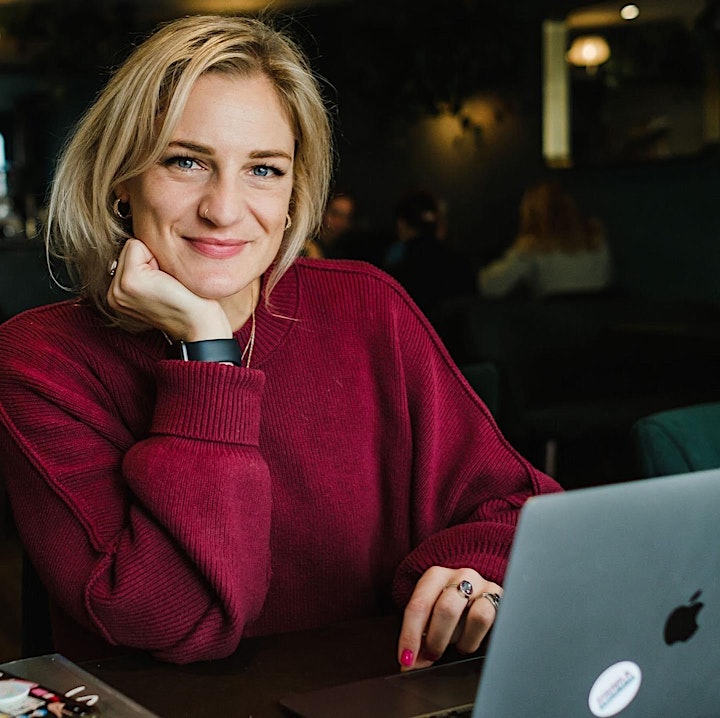 About Penfold
Penfold is the go to pension provider for the self-employed. Their pension is clear, simple and jargon-free and can be activated in under five minutes, either online or through their app.
Users can set up, manage and track their pensions online or on their phone. Contributions can be paused, topped up with a bonus and combined with multiple pension balances. Users can choose where their money is kept or invested (including both a sustainable fund and halal pension option) and the dashboard explains how much they have saved and how far off they are from their ultimate end-goal. In summary – it makes pensions easy.
Founders Pete Hykin, Stuart Robinson and Chris Eastwood setup Penfold in 2018, after all working in the financial industry. After long periods of contracting for companies, the trio agreed that there was a clear gap in the market for a pensions company that served them better than the confusing, jargon-filled providers on the market.
About your hosts Found & Flourish
We are a community, media and events platform for entrepreneurial womxn. We exist to provide community and resources to support founders on their entrepreneurial journey. Our ultimate goal is for each and every member to achieve impact, profit and joy.
FAQs 
Is your event for women only?
We welcome anyone who identifies as a woman or a non-binary woman. We're on a mission to close the opportunity gap for female founders, so if Found & Flourish is a fit for how you identify then we'd love to have you join us.
Organiser of How to invest in your future-self | Pensions 101 with Penfold
Found & Flourish are a community, media and events platform for entrepreneurial womxn. We exist to provide community and resources to support founders on their entrepreneurial journey.
Our ultimate goal is for each and every member to achieve impact, profit and joy. Our mission is to empower women to turn their business ideas into a profitable and sustainable reality. We celebrate femininity, creativity and individuality in business. Because girl power is about redefining power.
Not yet running your own business? Found & Flourish isn't just for active business owners and founders. If you're an aspiring entrepreneur, you're curious about the next step in your career path or looking for a change, the community is a place to learn and explore.