Event Information
Refund policy
Contact the organiser to request a refund.
Eventbrite's fee is nonrefundable.
2022 is just around the corner and it's YOUR CAREER YEAR! Come find out how you can land your dream role now, in 2022 and beyond...
About this event
Here's the facts: Only 1 in 7 people get an interview from a role they applied to online! YIKES, that is not an appealing stat. So, how is everyone else landing roles?
It ain't too hard when you know how, so come join me (Jasmine) at this unmissable Find Your Intern event where I will show you exactly how! I'm not having you waste 2022 endlessly applying for jobs online! In this fun, interactive session, I'm going to be giving you all the methods, tips and strategies to help you land the dream job or internship — without applying!
You'll leave feeling confident with a super clear idea of how to target employers and scout out opportunities that were made for you. Wave goodbye to endless CV re-writes and cover letters that don't get replied to, these proven methods are going to change the game for your future career.
Need a hand getting started? I got you! As well as covering all my non-application tips, I'll also be showing you how to refresh your CV, portfolio, and cover letter to send to brands and *apply* if you really want to...
Ready to change the way you find opportunities forever? LET'S GO.
*Please note: this event will only go ahead if we sell min 50 tickets, so if you are keen make sure you nab your spot! All tickets will get a full refund if not*
This event is for you if…
🤑 You are a student or Grad in creative industries (from fashion to design) and you're ready for some 2022 career motivation after the Coronacoaster
🤑 You're feeling overwhelmed by the job hunt and wanna know how to break into the creative industry
🤑 You just want a simple guide on how to land a PAID role that's right for YOU
🤑 You're struggling with what to put in your CV and Cover Letter or how best to reach out to employers
🤑 You want to know how to get that initial experience, with little prior experience
🤑 You want to feel more confident as a Creative and an individual
🤑 You want to stand out and WOW, but just don't know how
The best bits:
🎉 We're covering 6 big topics and in each section we'll break it down into why it's important, how it's done (with examples) and action steps so you can get the ball rolling ASAP
🎉 New product alert! Get an exclusive attendee discount on the BRAND NEW FYI product we're launching at this event
🎉 Lucky dip time! I will be reviewing one atendee's CV/ folio/ Insta/ cover letter LIVE at the event! Keep an eye on your inbox for a chance to have your content of choice reviewed by me
🎉 Got a question? I'm an open book, honey. We'll have 'Ask Me Anything' at the end of the event where I'll answer any of your Qs or concerns
🎉 Not feeling motivated in December? Fear not. All guests will get a replay to watch into 2022 and beyond!
You will leave feeling:
🔥 Ready to get career s**t done
🔥 Motivated to start your creative career in 2022
🔥 Full of confidence and ready to go after the roles you really want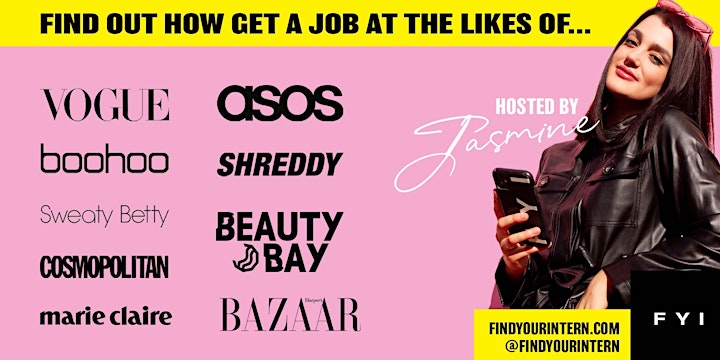 About the Host:
Jasmine is the founder of Find Your Intern; a 360 digital platform that delivers unique career advice to young creatives via community membership and online products. Since its conception in 2020, FYI has seen members placed in roles at Vogue, ASOS, Matches, Boohoo and Shreddy.
Having worked in the fashion industry for 10 years with the likes of Cosmopolitan Magazine, Harpers Bazaar and Marie Claire, Jasmine seriously knows what it takes to break into the creative industry. A regular guest speaker and lecturer, Jasmine has worked with numerous creative universities including LFC, Bath Spa, Conde Nast College, Ravensbourne and Westminster.
Date and time
Location
Refund policy
Contact the organiser to request a refund.
Eventbrite's fee is nonrefundable.