Event Information
Refund policy
Refunds up to 7 days before event
Eventbrite's fee is nonrefundable.
Dental professionals learn the steps needed to launch a sustainable oral health promotional project in 5 weeks, and start a new business.
About this event
A message from Victoria - the course lead
"I wish to share all I have learnt in the process of establishing Smile Revolution with dental colleagues, to create opportunities, and enable them to create their own sustainable oral health promotional projects, and businesses as I have. In doing so we collectively as a dental profession continue to elevate our reach, to serve overcoming the most prevalent preventable disease globally, dental caries."
Victoria Wilson - Dental Therapist - GDC Registration 6369
What is oral health promotion?
Oral health promotion can be considered as any planned effort to build supportive public policies, create supportive environments, strengthen community action, develop personal skills or re-orientate health and social services in the pursuit of oral health goals.
Oral health promotion is one of the solutions to help overcome oral health inequalities around the world.
Oral health promotion can take you out of the clinical setting creating a revenue outside of a clinical setting. Working from home, within schools, or care homes, corporate entities and so many more opportunities.
You have the potential to create additional income every month ranging from £500 and above , subject to your commitment and personal growth.
Do you wish to create another channel of revenue within dentistry?
Then this course is for you, as you will be taken through the simple steps on how to create and begin an oral health promotional project, and create another channel of income if you wish.
Where will this course take me in my career?
Oral health promotion has been identified as a key area of need for the publics oral health. You will be fulfilling a need to further support the publics oral health, with the initial skills required to move onto create new projects, with unexpected outcomes that are guaranteed to take you further in your career and open new doors and create new channels of income.
Do you wish to engage with more potential patients?
You will learn how to tailor your project specifically to your target group, you will learn how to tailor the project accordingly to engage with future patients and the target you wish to engage with.
Why should I do this course?
You will be able to open so many doors of opportunity through the insights and guidance you will receive on this course. You will learn of ways through oral health promotion that you can grow your existing business, or you will learn how to expand your current role and begin a new business . Now more than ever, we need to be innovative as so much has changed in the last months, the world is open to receive the new innovations in our new climate.
Who is it for?
This course is for all dental professionals, from dentists, dental hygienists, dental therapists and dental nurses, wishing to expand their role in dentistry. This is your opportunity to expand an existing business or launch a new business in dentistry. Learn the steps through this course to launch a sustainable oral health promotional project and help overcome oral health inequalities around the world.
At the end of this 5 weeks course you will have the initial outline of an oral health promotional project and business strategy in place, as you will have learnt the fundamental steps and leadership skills required, through a start-up framework tool, to transform your ideas and energy into a successful oral health promotional project and business.
What past delegates are saying?
This course is for anyone who is passionate about Oral Health and wants to feel fulfilled in the work they do. At the beginning I was struggling to think of an idea and I put a lot of pressure on myself, however Victoria nurtured it out of me! I now believe I know how to do this, and could use this model to plan more projects in the future. This course is changing peoples lives. (Nina Lord - Dental Therapist)
This course is for anyone and everyone who has a passion it is an overlap of dental and everything, it's life changing stuff. It opened my eyes to think outside the box, and to take time to plan & prepare & evaluate, to realise there's no hurry, better to get it right slowly. It's given me a structure to follow and to keep referring back to continuously. The inspiration and thinking outside the box was one of the most helpful parts.( Jo Dawson - Dental Nurse)
What is the agenda for the course?
This course is a 5 week venture and developmental journey, delivered through a series of live and recorded online training modules, and weekly interactive classrooms that take place every Monday and Saturday at a designated time slot.
Learn from existing oral health promotional projects, real-life, and produce your own concept and launch it.
Course lead Victoria Wilson will take you through the key concepts of each weeks module.
Experiential learning
Participants are expected to complete all programme activities, including a minimum of approximately 2 hours of additional studying per week outside your weekly interactive classroom setting.
Learn - Via online presentations and resources.
Reflect - Interactive sessions with your course trainer.
Apply - Prepare your oral health promotional project / business strategy.
Refine - Evolve the idea based on feedback from your mentor and support group.
Course Subjects
Global deprivation in oral health.
Exploring global oral health promotional projects.
Leadership in dentistry.
Sustainability.
Research.
The Aims and Objectives
To obtain a global perspective on oral health inequalities.
Discovery of other oral health promotional projects and key elements required in an oral health promotional project.
Gain an insight into the requirements of leadership in dentistry.
Understand the need for sustainability and research in oral health promotion.
You will obtain 10 hours verifiable CPD at the end of this course.
This course meets GDC learning outcomes B & D
All registrants will recieve some valuable resources from Philips at the beginning of the course, including a ProtectiveClean 4300, Practice Posters, Recommender Pads, Clinical studies, Patient information leaflets.
Financial support
Victoria is very conscious of the current climate and the fact the dental profession has been hit hugely by COVID-19. The mission of providing this course is to support other dentists /dental hygienists / therapists / nurses in starting up oral health promotional projects and to launch new businesses. If you are not able to pay the full amount now, yet wish to participate in the course please email Victoria directly at info@smile-revolution.net and we will find a solution that is possible for you to participate in this course.
What past delegates are saying?
This course is suited to any member of the dental team who has a desire to create their own project or business. With Victoria's guidance and input if you have passion for promoting oral health she will have all the tools to make it happen. Her knowledge is amazing but what shines through the most is her passion! Knowing she is always there to help and any stage or with any enquiry was so valuable. The course has inspired me so much, I am excited as to where this will lead and I feel it has given me opportunities to broaden my oral health career, thank you! (Jo Downs Dental Hygienist)
General feedback from past delegates
I am thoroughly enjoying this course. Victoria seems to have this ability to unlock the door to personal and professional excellence. The course is well delivered and very interactive – she is a great mentor!
I always look forward to the zoom sessions, and it is not just a matter of learning and absorbing information; I am excited to learn about the other delegates' projects and enjoy to see their progress as well! Sunday was brilliant. Victoria makes me want to go out and achieve so much. Informative, interactive, engaging.
Victoria has been such a great mentor, always giving constructive feedback, always believing in us and in our potential projects, and always offering to provide additional support at all times.
So much learn't in such a short time!
It has been journey of, self-discovery, learning new skills and meeting creative and passionate individuals.
How oral health promotion has helped Melanie Pomphrett MSc, RDH.
'Oral health promotion has enabled me to access individuals and groups that I wouldn't normally see in practice, often these are those most in need so the benefits this has to their overall health and independence is huge not to mention the personal job satisfaction and fulfilment it has given me. During these uncertain times if anyone is considering a change or an addition to their current role I would strongly recommend oral health promotion as it will help to develop skills that we all have as dental professionals but do not always necessarily get to utilize due to time restrictions in practice'
Testimonial from Philips
"Our mission to improve lives has never had greater meaning. Along with facing new challenges of continuing to provide patient care, you need to find ways to care for yourself and those around you.
Philips is here to support you as a dental professional. Listening to your needs, helping you empower patients to practice healthy routines and habits. We are proud to be supporting this oral health promotion course as part of your journey through continuous education."
You will be contacted from info@smile-revolution.net regarding all information related to the course.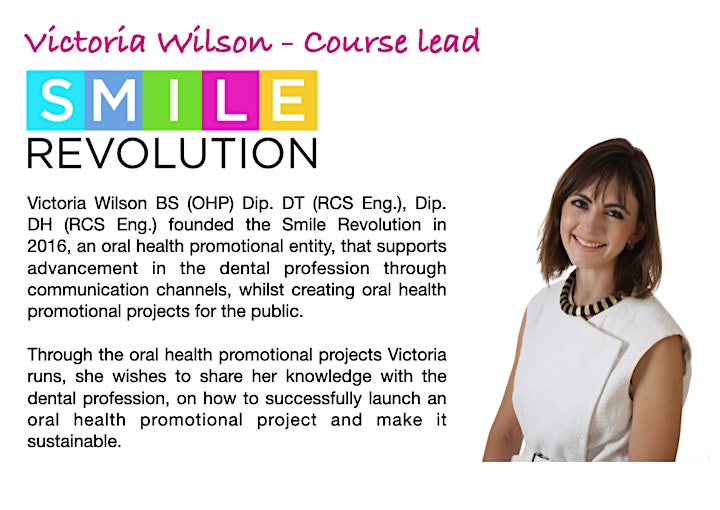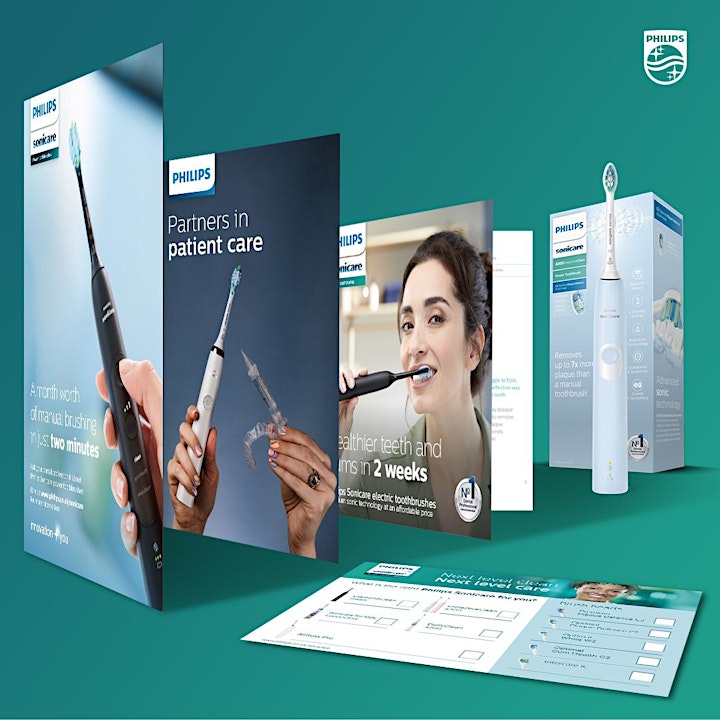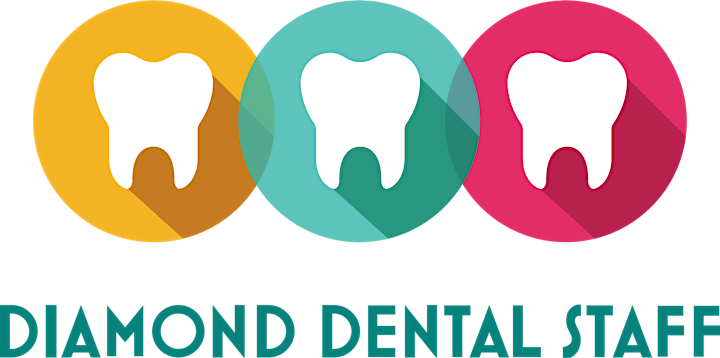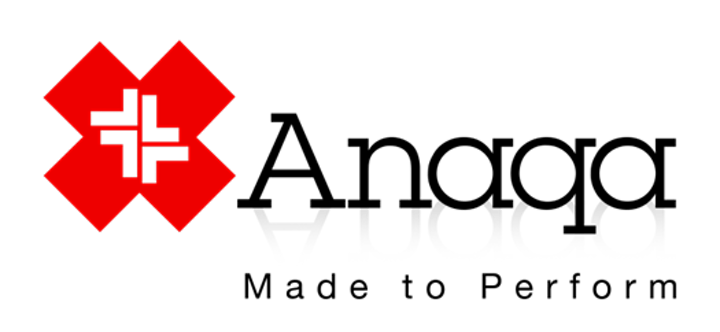 Date and time
Location
Refund policy
Refunds up to 7 days before event
Eventbrite's fee is nonrefundable.
Organiser of How to launch an oral health promotion project / business - 5 week course