Live Webinar to help you leverage Linkedin to get your first paying clients and scale your coaching business.
About this Event
Discover a proven system to leverage Linkedin to get your first paying clients and scale past $10k per month⚡️
Even If You're Totally Just Starting Out And Don't Have Much Time to Spend On It.
In This Webinar You Will Discover...
Lesson #1: How To Optimize Your Profile To Attract Your Ideal Clients.
Lesson #2: How To Generate A Consistent Flow Of Quality Leads On Autopilot.
Lesson #3: How To Convert These Leads To Paying Clients Efficiently.

► Do you want to get your first paying clients for your coaching business, but you have NO IDEA where to start?
► Are you trying to figure out a way to reach more people, or have a bigger impact on the world?
► Are you subscribed to Sales Navigator, but don't know how to use it to generate leads for your business?
► Are you convinced that Linkedin can help you, but you aren't quite sure what steps to take?
If You Said Yes To ANY Of The Above, Then I Want To Invite You To Join This "Webinar: How To Leverage Linkedin For Your Coaching Business" And Change Your Business Forever!
This Webinar Is Different...
This Webinar is NOT the usual free webinar that gives you 10mins of value with a 30mins introduction and 20mins sales pitch "that you'll never use"…
By the end of this webinar, you will be able to implement a system to help you get your first paying clients in 6 weeks.
And even more importantly, by consistently applying what you will discover in the webinar, you'll be able to charge more and grow your coaching business.
Who am I?

Hi Coach!
Royan here and It's my pleasure to meet you!
You know I've always believed in the saying "THE MORE YOU GIVE THE MORE YOU RECEIVE"
But as I grew older I've come to realize that it's really not about "giving more" to "receive more" but simply about GIVING.
And with over 10 years of experience in sales and online marketing
I'm on a mission to share and help business coaches accelerate the lives of as many people as possible
Because I believe that we all deserve to have a good life - A HAPPY LIFE!
And the more successful coaches out there, The more successful and happy individuals the world will have.
In the past 4 years, I've helped dozens of business coaches launch and grow their own coaching to a 6 figure business.
And my proven framework and systems allowed them to establish a successful coaching business, build a powerful personal brand and most of all leave their LEGACY!
What do people say about me?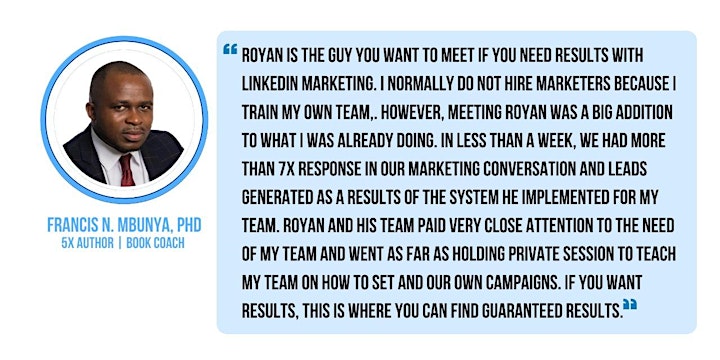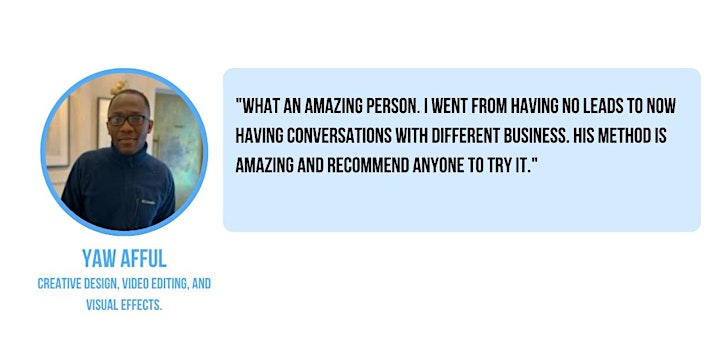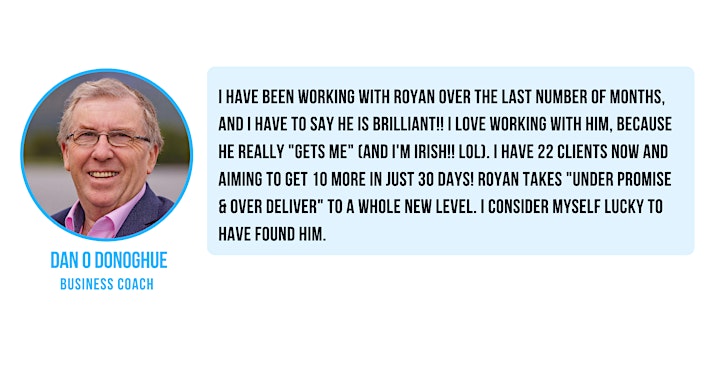 Are you still not sure if this is for you? This is what you can expect...
► A system to leverage Linkedin to get your first paying clients and grow your coaching business.
► A clear and solid understanding of how you can attract more of your target customers.
► A process to convert leads to paying clients the most efficient way possible.
So what are you waiting for?... Join Us Now... And Establish A Successful Coaching Business.