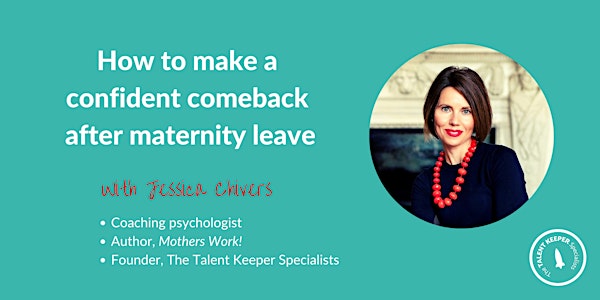 How to make a confident comeback after maternity leave with Jessica Chivers
How to make a confident comeback after maternity leave with Jessica Chivers – brought to you by South Westminster BIDs
About this event
Building belief in yourself; re-establishing relationships and increasing your visibility, and blending work and home in a way that works for you are three of the challenges Jessica and colleagues regularly hear from coachees coming back from maternity leave in organisations such as BlackRock, ITV, CIPD and TJX Europe.
In this interactive session Jessica will share practical tips, bring the stories of real maternity returners to help you make a confident comeback and answer your questions. She'll highlight:
• 5 ways to develop a positive, confident mindset
• How to strategically raise your visibility and rebuild relationships
• Effective ways to pitch for flexible working
• 5 ways to set yourself for a smooth return
Jessica Chivers is a coaching psychologist, author of Mothers Work! and founder of The Talent Keeper Specialists. She also hosts the Comeback Coach podcast, launching January 2021.
To find out more about Jessica visit www.talentkeepers.co.uk
Twitter @talentkeepersUK / Instagram @talentkeepersUK