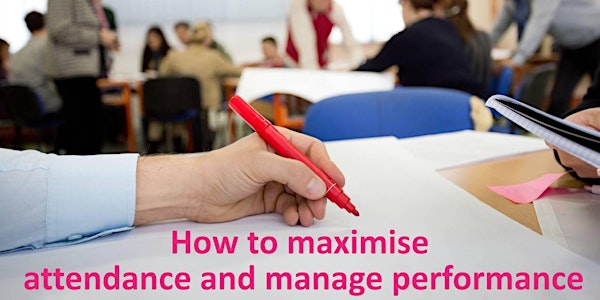 How to maximise attendance and manage performance - 5th Oct 2022
Workshop – How to maximise attendance and manage performance A practical day to provide you with the knowledge and practical skills you need
About this event
Workshop – How to maximise attendance and manage performance
A practical day to provide you with the knowledge and practical skills to maximise attendance by dealing with attendance issues early and to understand the importance of performance management. Warning: delegate participation required!
Aimed at line managers, those with HR responsibilities or employees in the business who have to handle attendance and performance issues and conduct performance reviews.
Don't wait until it's too late. Join us on a first come first served basis. We will cover the following:
An overview of disability discrimination and the duty to make reasonable adjustments
Managing short term absence
Long-term sickness absence and occupational health involvement
Maximising the effectiveness of the probationary period and annual reviews
How to implement a performance improvement plan
Dismissing for performance or capability reasons
We will look at these areas using case studies of real-life attendance and performance issues utilising the facilitators experience in practice and in Tribunal with real examples. This is a workshop with limited powerpoint and delegates will work through processes using real life examples in groups. Businesses are welcome to send a team of their own or just a single delegate who will join a group. We will be using different scenarios from different sectors to cover the industries in which delegates work.
Delivered by:
Sarah King
Join us on: 5th October 2022 9.30 - 4.30pm at Harrowden Hall, Wellingborough, NN9 5AD
Cost (includes lunch and materials)
–      £149 plus VAT per delegate
–      Early bird discount £99 plus VAT per delegate available until 05.08.2022
–      Multiple delegate discounts for teams (5 for the price of 4)
Organiser of How to maximise attendance and manage performance - 5th Oct 2022
Sarah is an employment solicitor with over 17 years experience including 5 years at partner level with a niche employment law firm. She has had responsibility for business development and also has experience of running her own business so understands the demands on the owner manager's time.
She has always acted for both employers and employees including conducting advocacy in the Employment Tribunal. She has designed and delivered bespoke employment law training to clients across the UK and contributed to a number of articles in national and local newspapers. She won Young Business Person of the Year for Lincolnshire in 2008 and was part of the firm that won the inaugural Law Society Excellence in Client Care award.
Sarah remains a member of the Employment Lawyers Association and also sits as a part-time Employment Judge in Employment Tribunal.