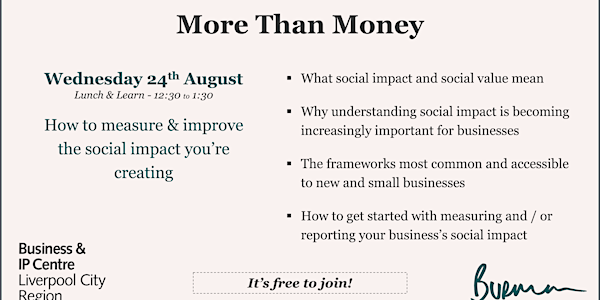 How To Measure And Improve The Social Impact You're Creating
The More Than Money lunch-and-learn series is hosted by Louisa Burman for Liverpool City Region's Business & IP Centre.
About this event
In recent years there's been a noticeable increase in businesses that generate 'profit for purpose'. These are businesses that are keen to grow their social and environmental impact alongside their profits, operating sustainability with future (as well as current) generations in mind.
This is a welcome challenge to previous profit-maximising and short-term-ist approaches to business, but the ethics of business owners wanting to do right by the communities they impact is only one factor. The growth in this movement is driven by conscious consumers who want businesses to operate more ethically and are willing to support them to do this – 49% of consumers are willing to pay more for sustainability (Deloitte, 2022).
With customers' interest and knowledge growing it's important that businesses are able to answer the questions asked of them regarding the impact they create or, better yet, pro-actively inform their customers of the good their doing and how spending with them will help them to increase their impact.
The More Than Money lunch-and-learn series, hosted by Louisa Burman for Liverpool City Region's Business & IP Centre, will help new and small businesses to understand what social impact is and how it applies to them It will also provide actionable examples of how they can improve their own social impact. You can benefit from attending all three sessions or just one!
During this final session, 'Understanding the types of social impact which best align to your business', we'll cover:
- What social impact and social value mean;
- Why understanding social impact is becoming increasingly important for businesses;
- The frameworks most common and accessible to new and small businesses (BCorp, UN Sustainable Development Goals and Good Business Charter).
- How to get started with measuring and / or reporting your business's social impact.
There will also be time at the end of the session to ask general questions or questions specific to your business.
We look forward to seeing you there!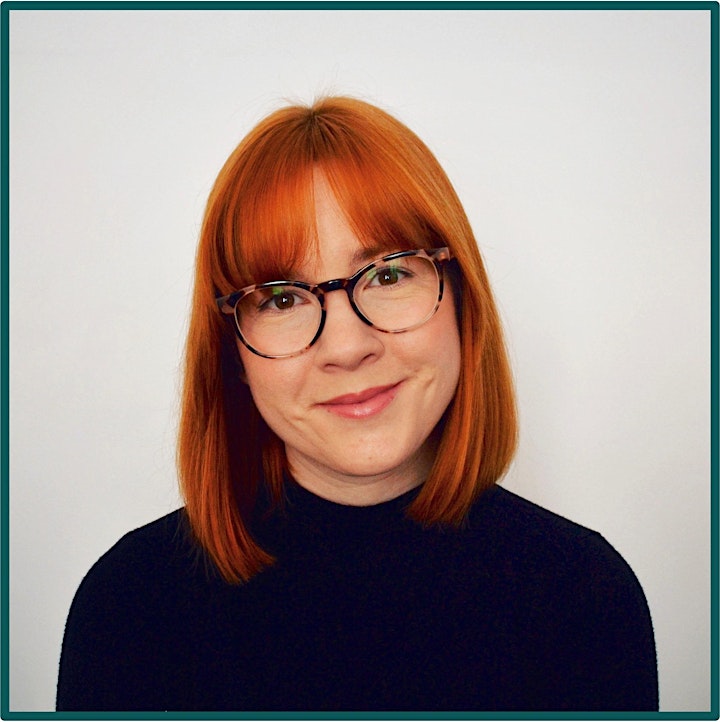 Who's Delivering This Session?
With over a decade of experience working across industries, for both SMEs and multi-billion pound businesses - specialising in audit, risk management and process improvement – Louisa Burman has the ability to understand businesses and their processes quickly in order to give valuable recommendations which suit their strategic objectives and culture.
Having completed training with B Lab UK, the University of Cambridge's Institute for Sustainability Leadership and Social Value UK, Louisa now supports SMEs to understand and improve the impact they create in ways that best suit them. Typically this takes the form of bespoke impact reporting and/or support in adopting the BCorp or UN Sustainable Development Goal framework.
Her passion for sustainability, in particular social value, has grown over the last five years and is amplified by the voluntary roles she currently holds:
- Committee Chair for Liverpool SOUP
- Non-Exec Director for Kindred LCR
- Non-Exec Director & Trustee for Sefton Park Palm House