This event will help demystify and de-stigmatise the Social Care System to gain a better perspective and understanding of Hillingdon Council
About this Event
Parents are under increasing pressure to maintain their own mental health and positive relationships with their family members, particularly during Covid-19 when they are having to face the challenges of possible redundances, housing issues and home schooling. If you are a parent residing in Hillingdon and feel you need some extra support with managing your children's emotional and behavioural needs, then this event is for you.
This event will help de-mystify and de-stigmatise the Social Care System and give parents who need support, but are either nervous to make contact or confused as to how the system works, the opportunity to gain a better perspective and understanding of Hillingdon Council. Parents will also be able to voice any questions they may have about the processes or more specific concerns pertaining to Education, Health, and the Law regarding their children.
Further guest speakers include: Carole Jones, Headteacher, Yeading Junior School * Kelly Johns, Social Worker, Hillingdon Council * Fitzroy Lee, Criminal Defence Lawyer * Holly Moggridge, Integration and Participation Worker, Kooth * Sgt Ian Benjamin, Metropolitan Police West Area Youth Engagement Team * Mary Smith, Parent speaker * Halima Yusuf, Parent speaker.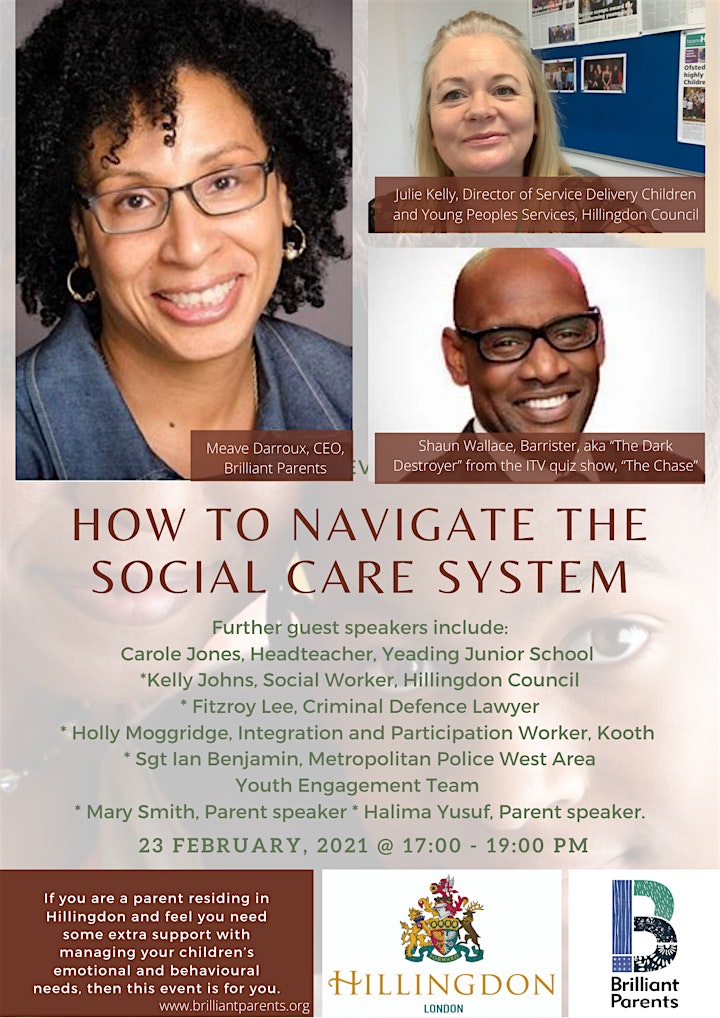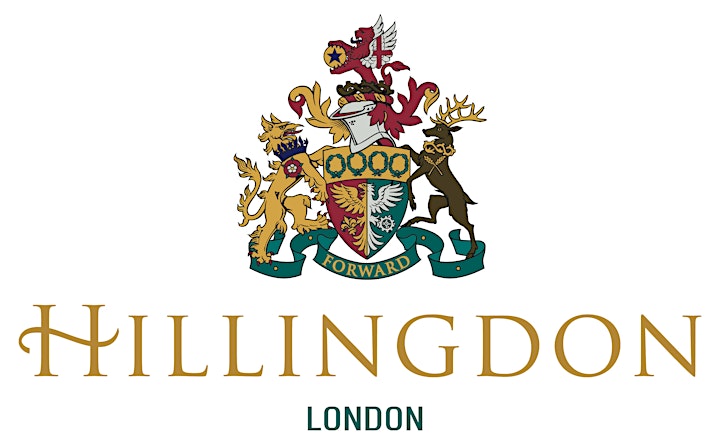 Meave Darroux, CEO, Brilliant Parents Meave is co-founder and Chief Executive of social enterprise, Brilliant Parents, which seeks to transform the parenting skills of the nation. Through her practice, as a parent practitioner in education, faith centres and the voluntary sector, Meave has been advising and supporting thousands of parents and their families for over ten years. Meave is regarded as "a thought leader on parental relations and development" and her mission is to facilitate the enrichment and quality of the parent-child relationship, improve child outcomes through positive parenting and transform the life trajectory of children through civil society. Meave is about to publish a book entitled, "The Alternative A-Z of being a Brilliant Parent!".
Julie Kelly, Director of Service Delivery Children and Young Peoples Services, Hillingdon Council Julie has been a qualified social worker for over 20 years. She started her social work career in Glasgow where she initially worked in youth work, criminal justice and then with children and families. She relocated to Birmingham in 2003 where she undertook a variety of local authority roles across the West Midlands. These included managing assessment social work services and disabled children's services. Before coming to Hillingdon she worked for CAFCASS for eight years, where she was Head of Practice across the West Midlands. She has been in Hillingdon since July 2017. Julie's career has been dedicated to making a positive difference for children and their families. Outside of work, she is a parent to five grown up children and soon to be four grandchildren. The best feedback she has had, was from a member of staff who advised that "she always take the work seriously but never takes herself seriously".
Shaun Wallace, Barrister, aka "The Dark Destroyer" from "The Chase" Shaun Wallace is an English barrister, lecturer and television personality of Jamaican descent. He is a "chaser" on the ITV quiz show, "The Chase". Shaun is a part-time lecturer and visits schools, colleges and other institutions to educate students on aspects of law. In 2004, he won Mastermind.
Carole Jones, Headteacher, Yeading Junior School Carole Jones, is an experienced Headteacher who is passionate about working with the wider community and partner organisations, for the further development of children. She has introduced Character Education into the school, including a set of virtues which are embedded in the ethos and threaded across the curriculum; the school has most recently gained Kitemark Plus as a School of Character. She is a trustee of a local organisation and actively promotes volunteering and social action within the school. In her role as head teacher she chairs Standing Advisory Council on Religious Education and a theme group in her local authority and attends the Safeguarding Partnership. She is co-contributor to a book entitled "Whole School Character and Virtue Education: A Pioneering Approach Helping All Children to Flourish" (November 2020). The school has established a resource known as The Community House where parents can access courses and support, including working with social work students on placement.
Kelly Johns, Social Worker Kelly Johns is a social worker employed by Hillingdon Council in the Vulnerable Adolescents Team. The team that she works within, supports teenagers aged 11-18 years who are impacted by difficulties such as family breakdown and exploitation. "We are a team that work intensively with young people; we take a relationship-based approach and visit more often to try to support positive change." Prior to being a social worker, she worked as an intensive family support worker.
Fitzroy Lee, Criminal Defence Lawyer Fitzroy has over 20 years' experience. Over a number of years, Fitzroy has represented clients in a wide range of cases in terms of their seriousness, ranging from simple theft to more serious offences, such as possession of firearms and murder. A number of these cases have attracted a high level of publicity both locally and further afield.
Holly Moggridge, Integration and Participation Worker, Kooth (a free, safe and anonymous online service for young people in Hillingdon aged 11-25) Holly's role is to ensure that all young people in Hillingdon are aware that they have this free mental health support service. She does this by hosting mental health workshops and professional healthcare training sessions. She is also an Emotional Wellbeing Practitioner, providing interventions and support to those accessing the service. She has undergraduate and postgraduate degrees in Psychology. She has experience working in a school for pupils with educational needs and has done volunteering work with young people in counselling and in clinical settings.
Sgt Ian Benjamin, Police Officer Sgt Ian Benjamin has been a Police Officer for over 30 years. He has worked in Westminster and West London, and has worked in custody and response teams. He now leads the Metropolitan Police West Area Youth Engagement Team, which is dedicated to delivering a multitude of informative programmes to West London Youth.
Mary Smith, Parent speaker.
Halima Yusuf, Parent speaker.