Description
Why Should I Attend?
63% of millennials aged 20 and above want to start their own business but only 16% of small businesses are owned by this same age group. We want to spark the entrepreneurial energy in you to help you realise that these skills can be used in everyday life! We've teamed up with Havas Media Group, the fifth largest marketing communications company in the world, to host this event as their Group CEO Paul Frampton and our CEO Jack Parsons, young digital leader of the year 2017, form one revolutionary team to upskill #GenerationNow.


What's Happenin'?
Our event is one of unique taste. We're giving you the chance for a one on one with Jack Parsons, Q&A time with ex-Apprentice winners and CEO's as well as the opportunities of a lifetime; mentorship from theirs truly! We've got the power so if you dress to impress, express your best and showcase the rest I'm sure you'll be hired, not fired!





Special Appearances...
At some point in your hours of TV watching, I'm sure you've flicked across the programme with Lord Sugar and his menacing finger. Now you get to meet the winners of that glorious entrepreneurial show! The 2008 winner Lee McQueen made most famous for his Dinosaur impression in his interview, the 2005 winner Tim Campbell whom said "good luck" to a woman who'd just been fired and the 2012, "reflection of perfection" Ricky Martin will be at the event to give you knowledge on how having an entrepreneurial mindset can help you in your opportunities. All since have been extremely successful starting businesses of their own, all changing the world for the better.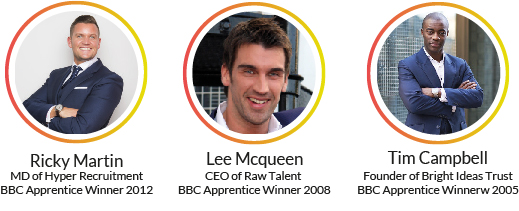 Take Aways...Not the Uber Eats Kind
Our aim is to educate, upskill and give you opportunities to develop your entrepreneurial mindset because you don't know what you don't know, so we're here to enlighten you on why and how you can start a business. Oh, so sorry, nearly forgot to mention that 4 lucky people will be chosen at random to be mentored by the Apprentice winners; now that's something you can showcase on your yourfeed profile!
What's #ThePledgeUK?
We're yourfeed. We've pledged to connect 2 million young people to opportunities by 2020 and we're kicking off our 90-day tour with YOU! Ever wanted to know how the ex-Apprentice winners cope with the pressure and high demands of the opportunities they undertake? Look no further, you can meet them here!

See ya there. P.S. Doors open at 18:30!
*There is disabled access as we believe all buildings should
*By coming to the event you are giving us the right to film you and use the footage; don't worry we'll only get your good side!