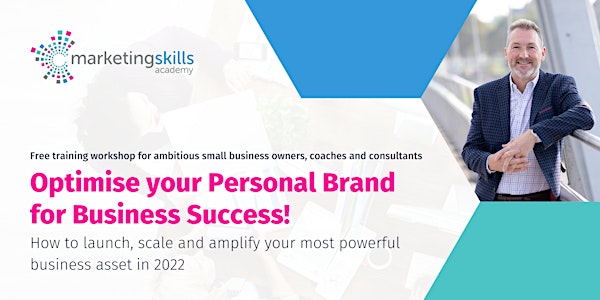 How to optimise your Personal Brand for business success
How effective is your most powerful marketing and sales asset?
About this event
Never before has the mantra 'people buy from people' been so relevant.
Amongst a plethora of marketing messages and brand overload, your customers and consumers are the most highly brand-aware than ever before and deaf to all but the most on-point of offerings.
Most engagement and interaction with businesses are carried out online, which has become an increasingly crowded and challenging marketplace.
Personal branding is the most powerful marketing and sales tool we all possess in business.
The intrinsic mix of your passion, values, experience, professional network and of course, skills and expertise.
It will help you stand out, build authority and trust and ultimately, separate yourself from your competitors.
It must be personal to you and, above all, it must be authentic!
So, if you want to stand out in an increasingly crowded and challenging marketplace, you must embrace the concept of personal branding and how it can influence your future success.
Optimise your Personal Brand for Business Success Workshop - online via Zoom
10.00 – 11.30am
Wednesday 26th January, 2022
'Optimise Your Personal Brand for Business Success' workshop is aimed at ambitious small business owners, coaches and consultants who wish to further develop their Personal Brand to effectively differentiate themselves and maximise their true potential.
During this workshop you will learn:
• Why Personal Branding really matters in 2022
• The 4 stage process to create your Personal Brand strategy:
Purpose;
Persona;
People;
Promotion
• 5 golden rules for Personal Branding success
The Trainer:
Simon Clayton is a highly motivated, creative and driven educational specialist, with a proven track record in coaching, training and mentoring business leaders, entrepreneurs and in-house management teams.
During his 25+ year career, he has owned, managed and built businesses, as well as provided strategic leadership and change management consultancy to a diverse range of public, private and third sector organisations.
Simon launched his own coaching and training consultancy – Marketing Skills Academy, in 2014. He has received much recognition for his approach to developing and empowering strong leaders and teams, through self-realisation of their own potential, helping them to identify personal qualities, a journey which can ultimately transform their professional lives.
In 2019, Simon published his first book 'Marketing Masterplan' and launched his own coaching program of the same name.
Simon is also a part-time senior lecturer and Enterprise Mentor at Teesside University Business School; The UK Marketing Network; and Member of the Chartered Management Institute (CMI).
How do I register?
Register here for this FREE training workshop, which is limited to 30 spaces only on a first come–first served basis.