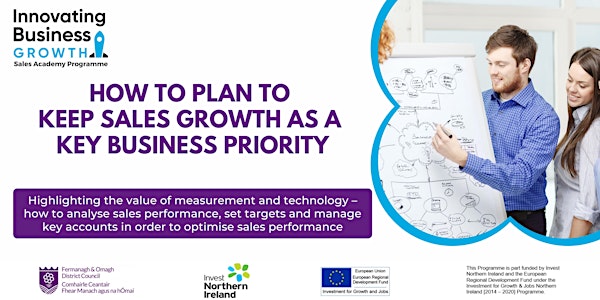 How to plan to keep sales growth as a key priority - Sales Academy Workshop
Workshop 6 of the Sales Academy Programme.
About this event
The workshop will help to equip you with the skills to set SMART objectives and to develop and implement a clear set of sales growth strategies whose purpose is to realise these SMART objectives.
During this workshop, we will highlight the value of measurement and technology – how to analyse sales performance, set targets and manage key accounts in order to optimise sales performance.
We will also focus on the theme of development in business communication – leading from the front so that other members of the team are all clear about the strategic direction of the business.
For many businesses, significant sales growth will require the recruitment of additional staff. We will therefore explore best practice in the recruitment and retention of new staff.
This project is part funded by Invest Northern Ireland and the European Regional Development Fund under the Investment for Growth & Jobs Northern Ireland (2014-2020) Programme.
If you are a business based within the Fermanagh & Omagh District Council, have been trading for more than 12 months and employ less than 50 people, you could get FREE business support through the Sales Academy Programme.
Find out more and apply HERE