How to ...Presenting and Public Speaking Success 3 day Workshop

Monday, October 1, 2012 at 9:00 AM

-

Wednesday, October 3, 2012 at 5:00 PM (BST)
Event Details
 How to ...Presenting and Public Speaking Success 3 day workshop
Discover presentation skills tips to remaining calm and confident when you are on your feet speaking. Learn advanced public speaking techniques like better body language and even how to prepare a presentation last minute! Practise in a safe and supportive environment which enables you to become a natural presenter gaining great results every time
Note Prices above INCLUDE VAT and booking fee
So, who should attend this workshop?
 Businesses wanting to gain more clients and increase sales
Managers who want to increase their confidence and skills in presenting 
Service providers struggling to convey their marketing message in a clear and concise manner 
Rusty speakers wanting to practise and hone their speaking skills in safe surroundings
Leaders wanting to influence and persuade clients perhaps through networking or talks
What you'd learn:
A proven Speaking & Presenting Programme that builds skills and personal confidence helping you to attract more success. As a specialist in public speaking, DeeClayton.com has developed the concept of helping people to train & tame their Public Speaking Monkeys! These are the voices in our heads that tell us unhelpful things like: 'you'r rubbish!" and 'you'll be boring! or perhaps 'I can't do a seminar to 100 people!'
The Public Speaking Monkeys concept is a multi award winning concept and helped achieve the status of Overall Winner (accross Norfolk, Suffolk, Cambridgeshire, Bedfordshire, Buckinghamshire, Hertfordshire and Essex) for the East of England Business Champions 2011.  
Different people have different monkeys but they all have one thing in common...they stop us from presenting our business in its best light.
There are Three Steps to Taming and training these mischevious little fellas:
 Step 1 - Taming Your Monkeys
 Tame the Public Speaking Monkeys and overcome presentation anxiety:
Golden Rule # 1 - Catch Your Monkeys.
Golden Rule # 2 - Connect With Your Monkeys.
Golden Rule # 3 - Challenge Your Monkeys.
Step 2 - Training for You and Your Monkeys
 Invaluable techniques for improving your presentations and talks. You'll combine best practice presentation skills and techniques with support from your newly tamed monkey – so you get to learn presentation skills more quickly and easily than ever before. And you'll know how to get those monkeys working with you, rather than against you. As part of monkey training I'll share techniques to ensure you use the best mindset, body language and style. You'll get plenty of time on your feet and positive constructive feedback so that best practise starts to become second nature.
Step 3 – Profitable Public Speaking and Monkey Mastery
Mastery enables you to get to the top of your game. You'll get encouragement and feedback on real  presentation examples and start to form lasting speaking habits. You'll practise monkey management and be introduced to marketing techniques and advanced skills to make public speaking one of the most profitable marketing tools you've ever used.
Whether you've been on courses before or this is your first ever - these strategies will work for you!
How would your day look?
A fun, fast & effective 3 day workshop with like-minded business people
Cover the Steps to Speaking Success specifically steps 2 & 3* 
Practise your individual presentation or talk throughout the day & see it improve dramatically
Discover a simple & easy 4-step structure for any presentation 
How to handle difficult situations and questions  
Blend of individual, small & larger group learnings & exercises
Registration & tea/coffee 9.15am for 9.30am start, close 4.30pm
Lunch is provided in the ticket price (please advise any dietary requirements)
How much will this cost?
Investment price only £945 + VAT (£1,134 inc VAT) and in just three days you'll learn how to present your business and yourself in the best possible light. Now all you need to decide is how many new clients do you want to attract when you have your new skills?
Strictly Limited to 6 delegates per workshop, so BOOK NOW!
EARLY BIRD OFFER
BOOK NOW for just £745.00 + VAT (£894 inc VAT)
this offer will end 15 days before the event - so hurry!
Ticket price includes VAT & booking fee  
Would you like to see a little how the above works? My recent book 'Taming your Public Speaking Monkeys' is a summary of the multi-award winning approach and techniques used in my one to one mentoring and bespoke presentation skills courses.
No need for presentation fear to hold you back as you further your career, grow your business or go networking to promote your company. Just follow the simple techniques in the book and discover how you can tame and train your personal Public Speaking Monkeys!

Would you like to see a sneaky free chapter download? Click here!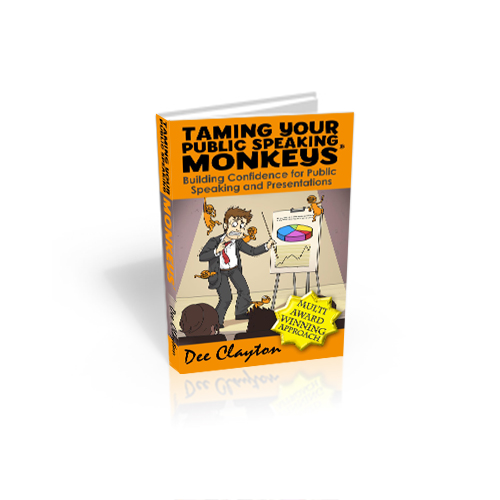 When & Where

Christchurch Harbour Hotel & Spa
95 Mudeford
Christchurch, Dorset
BH23 3NT


Monday, October 1, 2012 at 9:00 AM

-

Wednesday, October 3, 2012 at 5:00 PM (BST)
Add to my calendar
Organizer
Dee (as seen on TV!) has a vast range of experience presenting and speaking in seminars and business environments. She has been guest speaker at a number of groups and organisations such as Enterprising Women and The Business Club and has spoken at the Royal British Institute of Architects conference.
Dee is a highly skilled NLP (Neuro Linguistic Programming) Trainer and Master Practitioner. She is a member of the British Board of NLP as well as a Trainer member of ANLP International (Association of NLP). This enables her to work with you to build your confidence by combining learnings from the field of personal development with best practice in presentation skills.
As a marketer with over 17 years experience and a Member of the Chartered Institute of Marketing, her background ensures clear advice and guidance is also given on the structure and content of a talk. Dee believes that confidence alone isn't enough - you need great content too. 
Dee has recently overcome her own fears to attend a stand up comedy course culminating in a live gig! She uses that experience to bring humour to the learning environment and enable you to really bring your presentations to life in an appropriate and relevant manner. She is a member of Toastmasters International (a public speaking organisation) and is always open to new challenges to develop her communications skills further. 
DeeClayton.com is a little bit of Simply Amazing Training which delivers effective solutions using unique tips and tricks in a fast paced environment. We combine practical experience for you, with a positive feedback style that will leave you feeling confident and ready to absorb even more.  
When you work in any business time is money. You'll be pleased to know we use the best accelerated learning techniques to create a fun learning environment where you learn more, in less time. This results in many satisfied clients such as Chivas Brothers, SCA, Burtons Foods & RNIB.