How to Prosper in the New Economy - Spend A Day Training with Top Income Earners in Direct Sales on Business, Mindset, Marketing & Wealth Creation

Saturday, 14 January 2012 from 10:00 to 16:30 (GMT)
Event Details
 Use Your Referred Guest Discount Code
and You Can Attend for FREE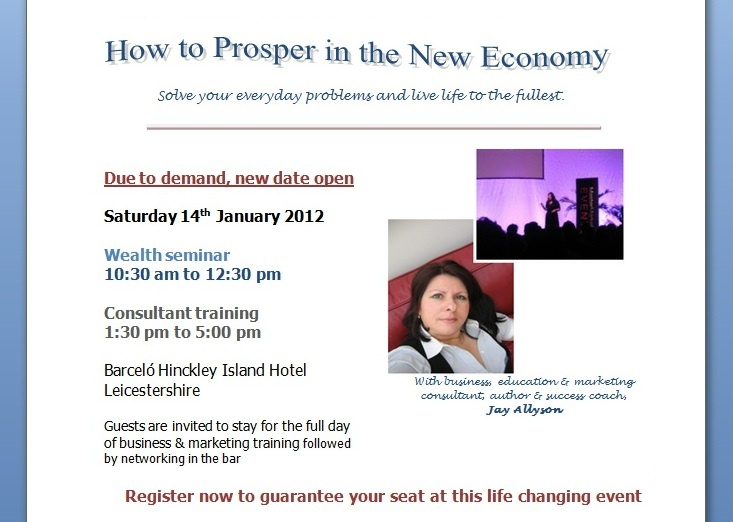 FREE PLACES - the discount code provided by our co-hosts means you can attend for free - the normal £195 full fee is waived, but we do ask you cover 10% for costs for catering (includes lunch) and cancellation/no-show. Parking is free.

---
Regain Control of Your Home Business Income Desires Today

Get a Full-Day of "Open-Book" Training with Leaders You Can Genuinely Learn From and Start Enjoying the Income & Lifestyle You Desire.
 
Recently in: USA, Australia and now in the UK.

Join Experienced Entrepreneurs and Financial Educators
As They Detail an Exact Business & Wealth Plan for You To Immediately:
Increase Your Income in the Next 90 Days Using a Proven Business Plan
Permanently Fix and Resolve Your Money Mistakes
Eliminate All Debt and Super-Size Your Savings
Create Increased Streams of Cash-Flow
Maximize Your Returns and Secure An Easy to Implement Investment Strategy
Gain the Financial Know-How and Education To Double, Triple or even Quadruple Your Yearly Income...in the Next 3-4 Months
Eliminate Stress and Enjoy More Free-Time
Create Financial Security for You, Your Family and Your Generations to Come.
 You'll Get the Answers You Need to Understand
Our Changing Economy and Personally Prosper.
Guaranteed!  You Will Know Exactly
What To Do to Prosper Immediately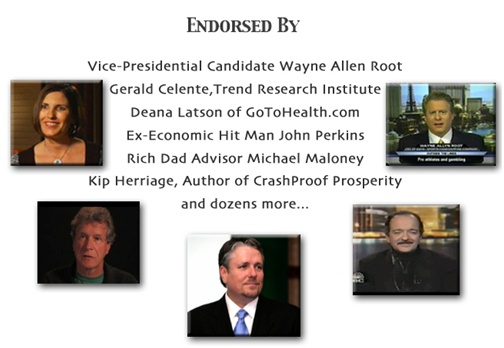 We'll be giving you a comprehensive overview of how you can:
permanently change your financial outcome

benefit from the strategies the ultra-wealthy use to create leveraged income, and

the solutions you need right now to put your life on the fast track of success and fulfillment.

'How to Prosper' Seminar for Guests:
10-30am to 12:30pm

followed by Business & Marketing Training for consultants
1:30pm - 5:00pm
*All Guests are Invited to Attend the Full Seminar for FREE
We charge 10% of the normal ticket fee to cover catering (including lunch) and 'no-shows'.
Easy to Implement Strategies Taught By
The Industry's Top Professionals
Reserve Your Seat Now

All-Day, Hands-On Workshop that Will Forever Change Your Results and Relieve You of Any Financial Confusion, Doubt or Worry.

Get the Professional Guidance You Need from Individuals Who Have Transformed Their Personal and Professional Results Using These Tried and True Strategies for Success.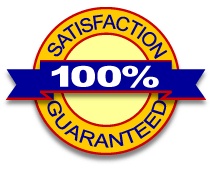 We're confident that you will have a life-changing experience at this event. We look forward to helping you achieve your goals quickly and prospering in the New Economy!

Save £195 Off Your Registration With Your Discount Code! Don't have one? Email us at admin@belanda-consulting.co.uk for help.
 
________________________________________
 

FAQ's:

Can I bring a friend or spouse?

Absolutely! Just use the same discount code to register your friend or spouse. We do ask that you register so that we can guarantee a seat and room. We have done this event many times and we have run out of space, so please do register.

What is included in my attendance?

As a registered, invited guest, you are entitled to coffee and tea in the morning and the entire day of training. There will be water stations in the room. Lunch is not included but the hotel provides an excellent range of restaurants and bars.

You may also receive free workbooks, books or other materials (varies per event, not guaranteed).

Parking is free - 6000 spaces - onsite security. You may make free use of the hotels leisure facilities before/after the event, including pool and gym.

For full information about the hotel please go to:

http://www.meetbarcelo.co.uk/meetbarcelo_hotels/barcelo-hinckley-island-hotel.aspx

Who is this event designed for?

This event is for anyone who is motivated to improve their current financial situation. We will be sharing with you a proven plan designed by experts in wealth and personal development, for you to eliminate debt, grow your savings, create streams of ongoing cash-flow and secure your future. As well, you'll learn how to access the financial education and information that the wealthy use to grow their portfolios each and every year.

If you have any other questions, please feel free to email us at admin@belanda-consulting.co.uk for support.

What is the programme for the day? 
The day starts with a presentation from Jay Allyson, author, business consultant and trainer and successful home business owner, exposing you to the tremendous opportunity they have to prosper in the new economy with a home based, internet leveraged business and top tier products that people can genuinely benefit from in their everyday lives to build wealth and fulfillment.
You will be able to connect with Jay and other leaders in the area to hear first-hand the results people are achieving with this world wide business plan.
After a short break and an opportunity to enroll, the day resumes with interactive training sessions in business development, marketing and communication that will build your skill set and mindset for success in business and sales.
You will learn the methods and operating strategies of the top producers in the industry and for some it will be your first opportunity to meet in person the people who support our community each day through our conference calls, webinars and all the work that goes on behind the scenes to make our company the foremost opportunity in the direct-sales industry.
 
There is no better way to kick off a new Consultant's business, or to supercharge your existing business to reach new goals and levels of achievement.
 
The day concludes with plenty of time for one-on-one consultations, photo/video opps, networking, social/team get-togethers, etc. Also included are giveaways and incentives which vary from event to event, and are provided for you and your guests by Wealth Masters International and regional leaders.
As someone looking to start a business working from home and looking for a legitimate way to build a substantial income in a short time with the kind of business development coaching most business owners never get ...then this event is for you.

If you are serious about changing your current financial situation, about shifting your mindset towards success and living a life of true abundance ... then this event is for you.

If you are ready to make a change in your life, to not only survive the current economic downturn (and it will get much much worse before things improve, believe that), but to THRIVE in the new economy ... then this event is most definitely for you.

 
This UK Wealth Seminar is your opportunity to leverage the experience & know-how of Wealth Masters International and its leadership to build your business powerfully, and bring your future guests together to gain the big picture of what's really possible for motivated entrepreneurs within our world wide community.
 
It's simple. It's fun. It's highly profitable,
and it will have a lasting effect on your life.
---
About the venue:
Barceló Hinckley Island Hotel is situated in spacious grounds in rural south leicestershire, on the A5 and minutes away from major motorway junctions of the M1, M69 & M6, just 30 minutes from Birmingham International Airport and 45 minutes from East Midlands Airport.
The hotel boasts excellent accommodation for anyone wishing to stay overnight before or after the event (please ask the hotel about delegate special discount rates) and a top Health and Leisure facilities with pool, sauna, gym and changing facilities. 
For directions, see map. Satellite navigation will find the hotel by name Barceló Hinckley Island Hotel or postcode LE10 3JA. For full details of location and travel, go to:
http://www.meetbarcelo.co.uk/location-travel/barcelo-hinckley-island-hotel.aspx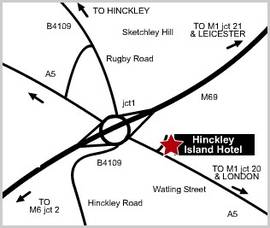 Do you have questions about How to Prosper in the New Economy - Spend A Day Training with Top Income Earners in Direct Sales on Business, Mindset, Marketing & Wealth Creation?
Contact Dr Jay Allyson
When & Where

Barceló Hinckley Island Hotel
Watling Street
Hinckley
LE10 3JA


Saturday, 14 January 2012 from 10:00 to 16:30 (GMT)
Add to my calendar
Organiser
Dr Jay Allyson
Jay helps small businesses to map out a coherent strategy for starting and growing a business. Her expertise is focused in particular on consultancy and education in how to plan, brand, promote and deliver services and products, teaching entrepreneurs how to be more strategic in their marketing, how to clarify and leverage their unique offer, win more clients/customers and grow their impact, influence and income.
Jay's provides powerful insights into mindset, marketing & money aspects of business development, empowering people to break through current barriers to growth and success. Her forthcoming book 'The 7X Formula for Growing a Wildly Successful Service Business' is out soon.

Jay is an experienced educator, business owner and marketer, consultant, mentor and author. She is a recognised Fellow of the Institute of Enterprise & Enterpreneurs, a Fellow of the Higher Education Academy, and member of the Association of Business Mentors professional bodies. She is also the IOEE Training Manager for ibd Business Advice Group, created to help improve the performance and profitability of companies of all sizes.
ibd Business Advice Group Limited was established 10 years ago and now has 200 plus accredited business advisers who help thousands of UK business owners get their businesses to the next level by providing practical help and advice. ibd  business advisers also work 'hands on' with management teams to implement solutions.
ibd advisors / tutors come from a variety of backgrounds, from smaller companies to multinationals, and all have at least 5 years' experience running businesses. All have extensive expertise in managing businesses in the UK and/or overseas, and have a keen understanding and affinity with the SME sector, as well as larger businesses and government organisations. They bring a very comprehensive range of disciplines to the board, including expertise in Business Strategy, Innovation, Marketing, Sales, Finance, Manufacturing, Human Resources, IT, Coaching & Mentoring, Evaluation, and Corporate Governance.