Description
Bloomsbury presents a stylish evening with fashion historian Lydia Edwards and Barbara Brownie on How to Read a Dress.
Five centuries. Countless ruffles. One lavishly illustrated book.
Fashion is ever-changing, and while some styles mark a dramatic departure from the past (hello, mini skirt), many exhibit subtle differences from year to year that are not always easily identifiable. With overviews of each key period and detailed illustrations, Lydia has created an authoritative visual guide to women's fashion across five centuries in How to Read a Dress.
Lydia shares her thoughts on all aspects of the dress - like how exactly do you distinguish cartridge pleats from your Récamier ruffles? - with fellow fashion researcher Barbara Brownie, author of Acts of Undressing. A truly unmissable evening for stylists, fashionistas, dressmakers, dress-wearers or indeed anyone with a passion for fashion at Bloomsbury Publishing. Tickets will sell out fast and so we encourage you to book early to avoid missing out.
Date: Tuesday, July 11, 2017
Timing: Arrival and drinks from 6pm. Lydia and Barbara in conversation and Q&A from 6:30pm to 7:45pm
Venue: Bloomsbury Publishing, 50 Bedford Square, WC1B 3DP
Nearest station: Tottenham Court Road
Tickets: £10 - £20 + booking fee
Lydia Edwards is the author of How to Read a Dress and a fashion historian currently lecturing at Edith Cowan University in Perth, Australia. She gained her PhD from the University of Bristol and has taught at the universities of St Andrews, Dundee, and Western Australia (UWA).
Dr Barbara Brownie is the author of Acts of Undressing (Bloomsbury 2016) and The Superhero Costume (Bloomsbury 2015), and she is currently engaged in research into fashion for space tourists and the effects of weightlessness on designed objects. She is also Senior Lecturer in Visual Communication at the University of Hertfordshire, where her research covers both fashion and typography. Her past publications include: Transforming Type: New Directions in Temporal Tpography (2014) and Type Image (Gingko Press, 2011).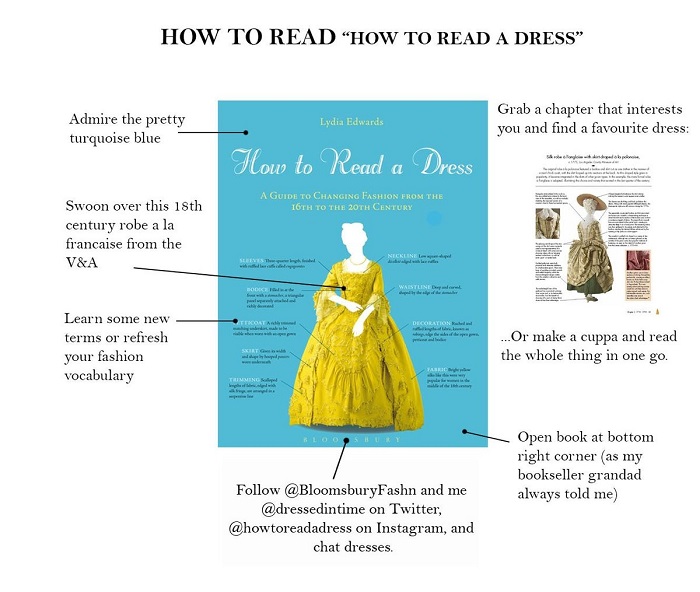 ***
This event is hosted by Bloomsbury Institute, a divison of Bloomsbury Publishing.