How to Recognise Impostor Syndrome and Ways to Live Your Best Life
Event Information
Refund Policy
Contact the organiser to request a refund.
Eventbrite's fee is nonrefundable.
How to Recognise Impostor Syndrome and Ways to Live Your Best Life
About this Event
It is astonishing how many people suffer from Impostor syndrome. Did you know that Maya Angelou, Albert Einstein and Kate Winslet to name a few all suffered with this condition?
It really can have quite a negative effect on our work and the way that we view ourselves in the workplace. The Impostor syndrome describes a condition where we feel that we don't deserve the position or responsibility that we have. We find it difficult to take pride in our achievements and have a feeling that we are a "fraud".
When you think of your greatest achievements. Do you feel proud of what you have accomplished? Or do you feel like a fraud?
Do you experience feelings of self doubt and inadequacy?, then you may be surprised to learn that you are in great company. Impostor syndrome is typically associated with high achievers. So, if you do feel like a fraud, the chances are that you are more capable than you think. Real frauds do not worry about this!
Impostor syndrome is the overwhelming feeling that you do not deserve your success. It tells you that you are not as creative, intelligent, skilled or talented as you may seem. It tells you that your achievements were down to luck, good timing or being in the right place at the right time. It is also accompanied by the fear that one day, you will get found out as a fraud.
Do any of these statements ring true for you?
You are a workaholic, and overwork to the point of burnout to prove and show you are good enough
You try to escape feedback because you do not want to get found out
You are hesitant to ask for help from others because you don't want to show any signs of weakness
You have a fear of being found out for being inexperienced or nor good enough
You have an inability to accept praise and compliments
You do not start or finish projects because you worry that it will not be good enough
You are comparing yourself to others around you, which stops you in your tracks
Putting yourself out there is uncomfortable, and perhaps you may be a bit like me, and you would much rather snuggle up on the sofa than put yourself out there. But the truth is that when you stand tall, accept who you are, and how awesome you are, then truly anything is possible.
The stories that we constantly tell ourselves create our current reality and have got us to this place so far - so can you imagine by changing the story inside of your mind that you are speaking everyday. Just imagine the impact this would create in your life and work.
In this talk I will cover:-
What is Impostor Syndrome?
How does it show up?
What does it look and feel like?
What is the impact?
What's your type?
How do we deal with it?
Your One life
Where do you start?
You will also have the opportunity to share your own experiences and ask any questions.
Today we are putting you in control. You are in the driving seat for your life ahead, and you are going to choose what direction you want to go. What do you need to do to accelerate yourself forward and change your life?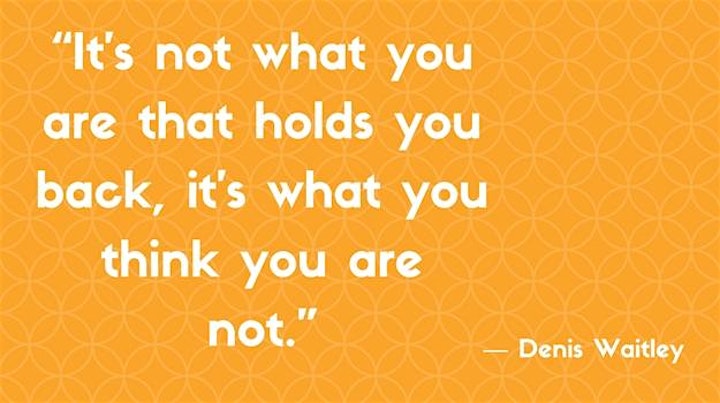 Date and Time
Location
Refund Policy
Contact the organiser to request a refund.
Eventbrite's fee is nonrefundable.