A 4-session interactive workshop for women looking for God's direction and purpose for their lives
About this Event
About this Event
Have you ever wondered what it truly means to follow Jesus as shown in the Bible or had questions you felt unable to ask about God?
Did you know that God had a purpose for your life before you were born?
The aim of How to Renew your Mind is to equip you as a woman, through a solid foundation of biblical teaching and transforming prayer, to live out an overcoming, confident and joyful life that Christ has designed for you, and to fulfill His mission and purpose in your lives and those around you.
The Renew your Mind workshop is not a system, or a method, or even a formula, it is a way of allowing God and the Holy Spirit to reshape and renew the very way you think about yourself, the world around you, and God himself, so that you can live a life with purpose that reflects Christ's nature. By reflecting on where you are now and how you got there, as well as reflect on where you feel God wants you to be, you will be learning how to fully adopt the very nature of Christ and experience freedom from:
destructive thought patterns
fear of the future (especially COVID)
much more things that could be holding you back
In this new-found freedom, you will be able to handle the pressures of day to day life full of love, peace, direction, and in God's power.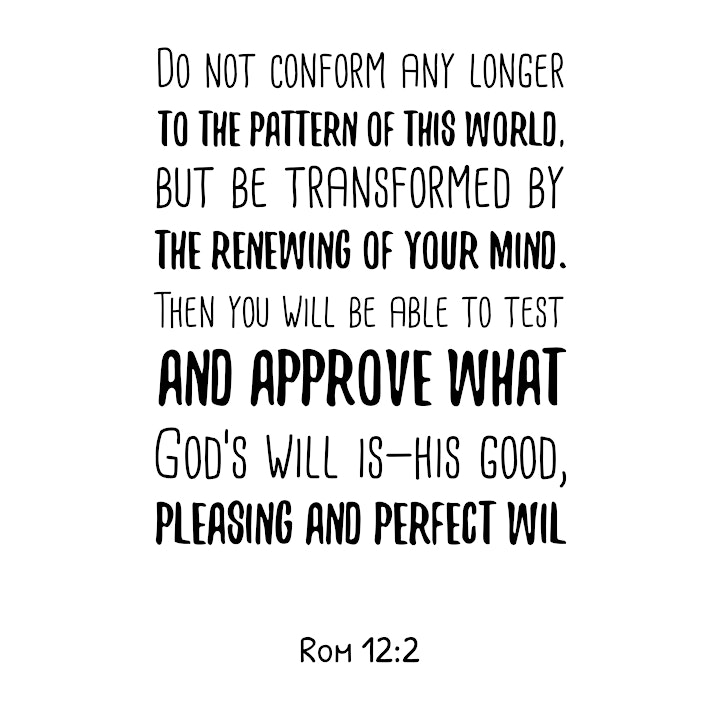 Sessions
Looking at Romans 12:1-2, this exciting interactive four-session workshop (15th, 22nd, 29th January & 5th February) will look at how to develop a healthy Christ-like way of thinking that will unleash all that God has designed you to be and transform any difficult situation you are faced with.
Using a map analogy we will look at:
Where we are? - Crossroads - Taking stock of life and how we got there
What Satnav to use? - What God is saying and who or what else is directing us?
Is this the right direction? - Rerouting/changing direction
Are we there yet? - How to continue towards our destination along a clearer road
Each session will aim to be fun, interactive (you will be doing all the hard work!), and filled with many real-life stories of transformation. It will also include some homework so that you can put what you have learned into practice.
Tickets:
As the sessions follow on from each other, it is essential that you attend all the sessions in subsequent order to get the best from the workshop. N.B. You will need to obtain a ticket for each session AND click on the access the event button (top right) to register for the Zoom Link.