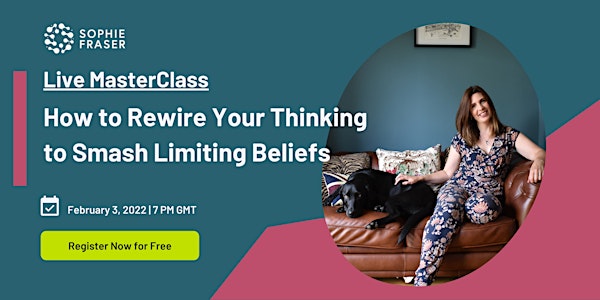 How to Rewire Your Thinking to Smash Limiting Beliefs
This MasterClass will teach you how to challenge your limiting beliefs, rewire your thinking & take back control to live your dream life.
About this event
What could your life be like if you didn't have those negative beliefs whispering in your ear? What goals could you achieve in your business, work or home life!
We all have our own negative cycle of thoughts. But usually we don't know where these negative beliefs come from and why they continue to keep us stuck (however hard we seem to try to change).
The truth is, this is a pattern we have learned BUT we can break from.
I would love you to live a life filled with purpose and have the ability to achieve all your hopes and dreams.
In this exclusive MasterClass I'm going to take you on a journey of discovery, so you can learn:
Where your limiting beliefs come from
Why you still have them
How to transform how you think
How you can wire in what you REALLY want
Plus a special bonus powerful meditation to help you kick-start change
ALL my teaching is based on a neuroscience-backed approach that WORKS!
This MasterClass has been created to provide an intimate, interactive and personal experience and enable me to build the energy of change.
I will be delivering a 15 minutes bonus deep meditation to help you to kick-start the process of letting go of limiting beliefs and wake up your brain to new possibilities.