Description
Are you looking to run a crowdfunding campaign? Do you have a start-up a product you want to sell, a social enterprise or charity? Are you unsure what platform to use or how to make your campaign succeed?
On Indiegogo only 10% campaigns succeed. On Kickstarter only 30% succeed. On Crowdfunder 18% campaigns succeed.
Crowdfunding campaigns who have taken our training go on to have an 80% success rate.
We want to share our recipe of success with you.
In this intense full-day workshop you will leave with a recipe and step-by-step guide on how to run a successful campaign.
You will learn:
which platform to use for your specific project
how to plan your time/campaign strategically
how to build your network (if the average pledge is £25, how many do you need to reach your target?)
what brand story to focus on
how to structure your project page and video to increase success rates
how to develop an effective email marketing plan (and the content needed)
how to develop an effective social media marketing plan (and the content needed)
how to keep your backers engaged after the campaign has ended
This workshop is limited to 15 people so that each person can benefit from specific examples relevant for them. The workshop is taught through a mixture of a presentation, practical exercises related to your project and peer feedback. You will also be given a workbook full of templates and cheat-sheets which can be taken home to continue working on.
It is estimated that you will be ready to launch your campaign in a minimum of 5 weeks of attending this workshop (meaning you could receive your money by 24th November)
Also included in the price is lunch (yay!) and a free 1:1 session at any time following the the workshop to talk through your campaign.
To read testimonials from those who attended previous courses check out http://www.crowdfund-360.com/testimonials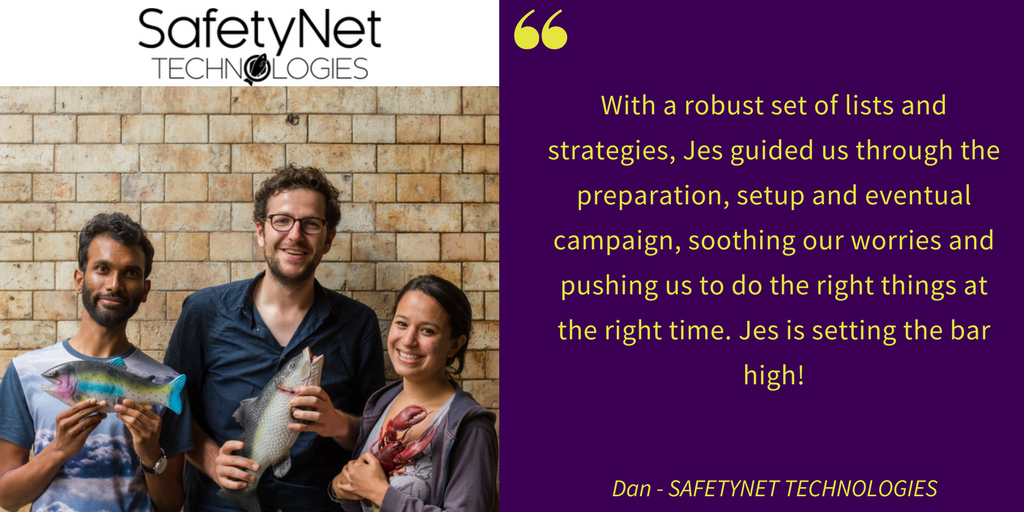 SafetyNet raised £50,000 for their sustainable light technology for fishermen.